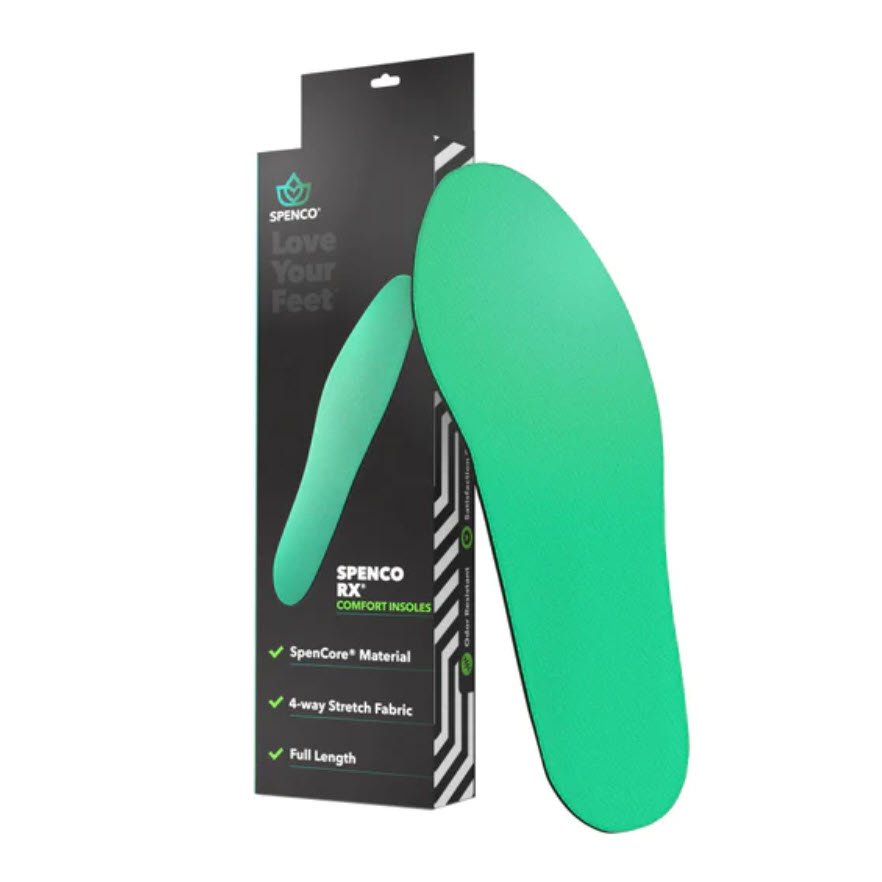 Spenco Insoles Prevent Blisters Under Feet
In 1968, researchers described the "ball-bearing effect" of a new closed-cell neoprene Spenco insole material and found it prevents blisters.
In 1968, Spence and Shields described a "ball-bearing effect" of a new closed cell neoprene cushioning insole material later called Spenco. Today, Spenco is used by podiatrists all around the world as cushioned insoles and orthotic covers. Looking a bit like wetsuit material, Spenco insoles provide a perfect combination of pressure-reduction (cushioning) and shear absorption to provide evidence-based blister prevention.
How To Achieve Blister Prevention
There are several ways that blister prevention can be successfully achieved. These mechanisms are mapped out in the chart below. The circles represent how Spenco works.
Spenco cushioned insoles both reduce pressure and absorb shear to help prevent blisters.
Mechanism 1: Cushioning Reduces Pressure
Spenco cushioned insoles reduce peak pressure under the foot by spreading the vertical load over a larger surface area . In doing so, friction force is reduced (higher friction forces are found in areas of the foot which have higher compressive forces against the skin).
How cushioning reduces peak pressure (Carlson, 2006)
Mechanism 2: Shear Absorption
A Spenco insole not only reduces pressure by cushioning bony prominences, it also absorbs shear strain by undergoing shear deformation itself. In doing so, Spenco allows the skin surface to move more in synch with the movement of the underlying bone, reducing shear strain within the body's soft tissues
A material's ability to resist shear deformation is known as the shear modulus. Shear modulus is a measure of the elastic shear stiffness of a material. A low shear modulus indicates the material easily deforms when a shear force is applied.
Spence and Shields described the concept of the shear absorption function of cushioned insole materials as a "ball-bearing effect" . They described how the cells of closed-cell rubbers or foams, as opposed to open-cell materials, are independent of each other and allow lateral movement of one cell relative to adjacent cells. A new closed-cell neoprene was discussed that was able to absorb 1cm of fore, aft and lateral shear and 25 degrees of rotary shear, as well as vertical forces. The insole developed by Spence and Shields was 1/8th of an inch thick and had a stretch nylon top cover to additionally lower the surface friction force to aid the sock-clad foot sliding into the shoe. Rushton and Richie, 2023
Research on Spenco Insoles Ability to Prevent Blisters
Blister Research
What: Blister incidence
Who: 200 athletes
Duration: 3-12 months
Comparison: 2 conditions: Spenco insole in one shoe versus no insole in the other (control)
Results:

Spenco insole: 1 athlete sustained a blister (0.5%)
No insole: 50 athletes sustained blisters (25%)

Blister/Callous Research
What: Blister and callous incidence (fun fact" blisters and callouses are caused by the same forces)
Who: In a group of 90 recruits from the US Coast Guard Training Center
Duration: 8 week training regime
Comparison: 3 conditions: Spenco insole, Poron insole, no insole
Results:

No insole – 33% sustained blisters or callouses

Poron – 17% sustained blisters or callouses

Spenco – 5% sustained blisters or callouses
Spenco Rx Comfort Insoles
There is scientific evidence that Spenco prevents blisters. Obviously, this would only apply to blisters on the bottom of the foot.
In addition to this, I often recommend a flat Spenco insole for heel edge blisters. These days, insoles tend to have pronounced heel cup. Particularly in endurance running and walking, these heel cups can cause edge blisters. While there are other ways to prevent heel edge blisters, but an easy fix is to replace the proprietary liner with a flat Spenco insole. While I often cut these out from a large sheet for my patients, flat insoles called Spenco Rx Comfort insoles can be purchased off-the-shelf. They can be trimmed to size with scissors to fit.

Spenco Rx Comfort insoles

Flat Spenco Insole: Spenco Rx Comfort Insole
References
Spence W, Shields M. New Insole For Prevention Of Athletic Blisters. J Sports Med Phys Fitness. 1968;8(3):177-180.
Spence WR, Shields MN. Prevention of blisters, callosities and ulcers by absorption of shear forces. J Am Podiatr Med Assoc. 1968;58(10):428-434.
Carlson JM. Functional Limitations From Pain Caused by Repetitive Loading on the Skin: A Review and Discussion for Practitioners, With New Data for Limiting Friction Loads. J Prosthetics Orthot. 2006;18(4):93-103.
Akers WA, Sulzberger MB. The Friction Blister. Mil Med. 1972;137(1):1-7.
Hoffman MD. Etiological Foundation for Practical Strategies to Prevent Exercise-Related Foot Blisters. Curr Sports Med Rep. 2016;15(5):330-335. doi:10.1249/JSR.0000000000000297
Rushton R, Richie D. Friction blisters on the feet: A critical assessment of current prevention strategies. J Athl Train. Published online January 27, 2023. doi:10.4085/1062-6050-0341.22
Smtih W, Walter J, Bailey M. Effects of Insoles in Coast Guard Basic Training Footwear. J Am Podiatry Assoc. 1985;75(12):644-647.
SUBSCRIBE TO OUR NEWSLETTER

Sign up to the newsletter today and you'll become a VIP subscriber, with immediate access to the Vaseline report.
The Vaseline Report – right now

My best tips, tricks and insights


The latest blister news and products

Need to Buy ENGO Blister Patches? No matter where you are in the world, we'll ship your ENGO Patches to...