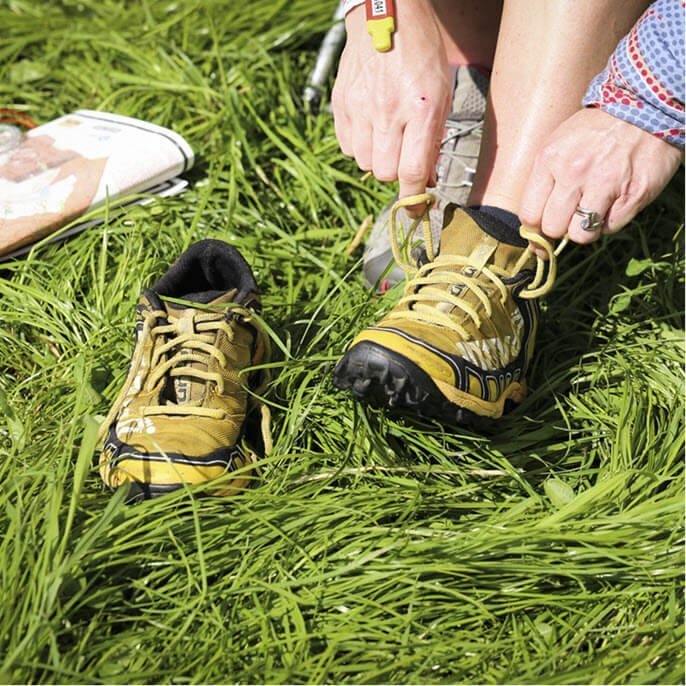 The Heel-Lock Lacing Technique For Blister Prevention
The heel-lock lacing technique is my favourite all-in-one blister prevention strategy for heel blisters and most toe blisters. Watch these 3 videos.
A good lacing technique can go a long way to making your feet more comfortable in your shoes. Quite simply, they don't get better than the Heel-Lock lacing technique (aka Lace-Lock), especially when it comes to preventing blisters. Read on to find out why.
How The Heel-Lock (Lace-Lock) Helps
Make no mistake, the Heel-Lock lacing technique, can help your feet in the following ways:
- It stop's your heel from rubbing up and down at the back of your shoe- It also stops your toes from jamming into the front of your shoe (the toebox)- It's great to keep your foot in position when you're doing a lot of downhill running or walking, or any time there's a tendency for your foot to slide forwards- Provides firmer contact of your shoe around your foot, in other words, giving it more support and stability. It will also let you get away with a shoe that's a bit too big for your foot
So, put all of this together and you'll go a long way to preventing heel blisters and most of the toe blisters. In other words, it's a great blister prevention strategy.
3 Heel-Lock Lacing Technique Videos
Video 1: My shoes
Seven years ago (2013), I posted this video. Why? Because I found this heel-lock lacing technique to be the most helpful lacing technique in preventing my own back-of-heel blisters, and occasional pinky toe blisters. It does so, not only by holding the heel down, but also by stopping the foot from sliding forward and jamming the toes into the front of the shoe. Watch the video and have a go yourself.
Video 2 : Running shoes
Since I posted that video, it has proven to be my 3rd most popular video, with ~90,000 views. But that's nothing compared to Illumiseen who posted a similar video 2 years later and has since had 59 million views!
Video 3: Hiking boots
Hikers often want to know how to do the heel-lock lacing technique with their hiking boots. The fact that this next video has had almost 1.1 million views shows you how keen they are. And rightly so - hiking and any walking activity is ripe for blisters at the back of the heel. Enwild shows you how in this video.
Lacing techniques is a hot topic
Lacing techniques continue to be a hot topic. I posted the following on social media earlier this year and it went nuts. As a result, it has been shared 83 times, which is a lot for my little Facebook page! You can download it here. It shows the heel-lock lacing techniques and two others I've used most during 6-day ultramarathon events. The other two are:
For avoiding nerve irritation on the top of the midfoot
For saving you from tibialis anterior tendon irritation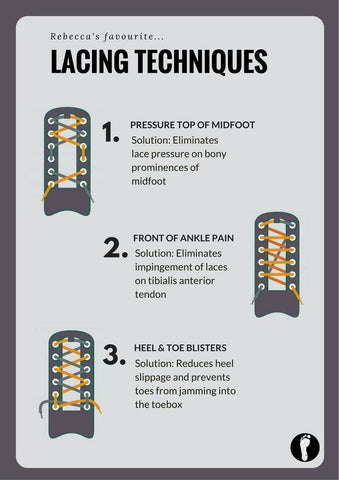 And finally, Ian's shoelace site has a dinky little animation of the heel lock technique (he calls it lock lacing). Check it out here, and take a look around his site - you'll be amazed at all the different lacing techniques out there.
Wrapping up
In conclusion, if you want to stop your heel from slipping up and down a the back of your shoes, or stop your toes from jamming into the front of your shoe, I suggest you try the heel-lock lacing technique. Use it especially if you're running or walking downhill a lot, if you feel like your foot could do with a little more support in the shoe, and if your shoe is a bit too big.
SUBSCRIBE TO OUR NEWSLETTER

Sign up to the newsletter today and you'll become a VIP subscriber, with immediate access to the Vaseline report.
The Vaseline Report – right now

My best tips, tricks and insights


The latest blister news and products

When it comes to flexible tapes used on the feet for preventing blisters, there are two standout options. The first...