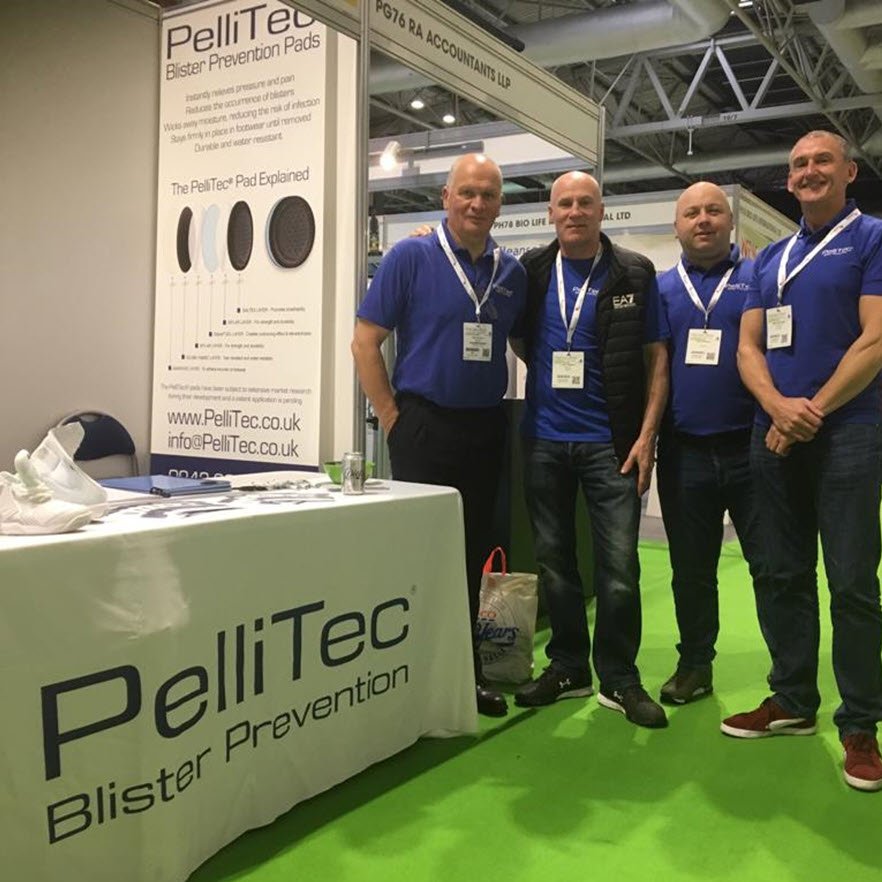 Q&A With Peter Broxton of PelliTec Blister Pads
Boxer Lenny Waters was frustrated traditional products didn't prevent his blisters. He and Karl Ormond came up with PelliTec Blister Pads.
We recently introduced PelliTec Blister Prevention Pads to our range of blister products. PelliTec Pads are a unique approach to preventing blisters. They attach to the inside of the shoe, just like Engo Blister Patches, a product I'm very familiar with. But there are differences between the two products. I sat down with PelliTec Director, Peter Broxton, to learn more about the inspiration behind the product, how it works, what makes it stand out from other blister prevention products on the market, and the team behind PelliTec Pads.
Can you tell us about the inspiration behind PelliTec Blister Pads and how the idea was conceived?
Peter: One of the inventors of the technology and co-founder of the company, Lenny Waters, is a boxer and was frustrated that traditional blister products didn't prevent blisters on his feet. He sat down with a friend, Karl Ormond, and together, they came up with the idea of a cushioning pad which contained gel and stuck to the inside of footwear not the skin. Both Karl and Lenny are from the construction industry originally, and are the inventors and co-directors of the business.
How does the pad material technology work to prevent blisters?
Peter: The gel/Mylar plastic sandwich contained in the pad moves with the foot to reduce the friction RR: absorbs shear> which can contribute to blister formation.
How did you decide on the six-component design of the pads?
Peter: We started with a basic "gel sandwich" design and developed it through user tests. The key decisions were on:
Shape: We decided on a circular pad as the one which could be placed in most areas of footwear.
The top layer - We wanted a resilient, cushioning top layer fabric which would also help to wick away moisture but would not cause any added friction problems. We worked with a UK company, Baltex, to optimise the design.
PelliTec Pad 6-layer sandwich construction
How does the company ensure the quality and safety of its products?
Peter:
Quality - We use an agreed specification. The materials are tested before production begins and the end-product is tested before packaging. The top layer is supplied from the UK and our gel comes from Silipos, a highly respected USA company who specialise in gel technology.
Safety - A technical file is kept for the pads and is updated whenever there are any changes in design. The factory works to ISO standards.
How are PelliTec Blister Prevention Pads different from other blister prevention products on the market?
Peter: The pads are the only ones on the worldwide market which stick anywhere on the inside of footwear, have a gel core which moves with the foot to reduce friction RR: absorbs shear> and cushion the affected area.
How does the durability of PelliTec Blister Prevention Pads compare to other blister prevention products?
Peter: A lot of blister prevention products need to be applied to the skin before every bout of physical activity. Think powders, lubricants, tape. Once our pads are in place in the shoe, there's nothing more you need to do, day after day, week after week, month after month. Similar to Engo patches.
How long do the PelliTec Blister Pads last before they need to be replaced? What are the signs to look for?
Peter: We generally say that if the average outdoor walker or runner is covering 10 - 15km a week in one pair of shoes then the pads will last around 3 months. The sign to look for around replacement is a flattening of the top layer which reduces the cushioning.
Can PelliTec Pads stick to damp surfaces, or must it be dry? If they are applied to dry footwear surfaces, will they remain in place with perspiration or a small amount of environmental water (eg: running through wet grass)? What about immersion / waterlogging situations?
Peter: The pads need to be stuck firmly to clean and dry surfaces. They will remain in place through sweaty and wet conditions. We have trail runner customers who use the pads in all types of terrain, through deep puddles, with no issues.
Can the pads be used for all types of athletic activities or are they specialized for certain sports? Are there any activities they shouldn't be used for?
Peter: They are suitable for all types of activity. We always suggest that people with diabetes check with their doctor/podiatrist before using the pads.
Are there any specific types of footwear that are best suited for PelliTec Blister Prevention Pads? Any types of footwear or activities they are not suited to?
Peter: They are suitable for all types of footwear.

Are there any special care instructions for PelliTec Blister Prevention Pads?
Peter: Not really. They must be firmly stuck to a clean, dry surface and don't cut them. RR: If you want to see me cut into PelliTec Blister Pad to have a look at the layers inside, and hear from some of our satisfied PelliTec customers,
click here
.>
What has been the feedback from athletes who have used PelliTec Blister Prevention Pads?
Peter: Excellent feedback from all types of active people from sports players, podiatrists who look after professional sports people, runners, dancers. The pads are comfortable and do what they say.
What have been some of the biggest challenges you've faced in creating, marketing and selling PelliTec Blister Prevention Pads?
Peter: The biggest challenge has been the education of the customer around not just thinking '
Compeed
' and sticking something to their foot. Our objective is to educate that there is an effective 'other way' to effectively prevent blisters. I suspect Engo faces the same issue. Compeed and Scholl have deep marketing pockets and people have either used their products by default, or not used anything and just suffered.
What marketing and promotional strategies has the company used to reach potential customers? What seems to resonate most? What seems to resonate least?
Peter: Evidence of the pads working was very important initially as we were an unknown brand. We have partnered with key distributors and users to build some case studies which we have used online via our website, in newsletters and at trade shows. Gaining the confidence of foot care professionals has also been key. As we move into the diabetic foot market with both the pad and a new insole, building up a further body of evidence will be core to our growth. What hasn't worked that well is moving into Pharmacy channels where the big brands have a significant presence.
Can you tell us about your background and experience in the athletic and/or medical industries?
Peter: I am a former Director of
Scholl Footcare
and have experience developing new products and bringing them to market. I also play sports and have suffered from blisters. There are PelliTec pads in the heel area of my cricket boots!
How has your experience informed the development of PelliTec Blister Prevention Pads?
Peter: I first saw a very early prototype of the pad and we spent 2 years developing it through 7 iterations to the one now on the market. My experience was all around not rushing the design to ensure the product worked and following the launch gathering professional footcare and customer feedback so we kept on improving.
Can you introduce us to the rest of the PelliTec team and describe the company's mission and values?
Peter:
Karl Ormond
and
Lenny Waters
are the inventors and co-directors of the business with myself. We have a Podiatrist on the team,
Mike McColgan
, who has over 25 years of experience in hospital podiatry and private practice.
Jenny Murray
, our marketing intern, is an ex-professional dancer who suffered from poor footcare during her career and 'gets' the product. In addition, we have all the usual business functions you would expect. Our main mission is to keep people moving by preventing blisters and if they have one allowing them to complete their activity relatively pain free due to the cushioning provided by the pads. We do this in an open and honest way and answer all customer questions personally.
The PelliTec Blister Pad team: Peter Broxton, Lenny Waters, Karl Ormond and Mike McColgan
Are there any plans to expand the product line beyond PelliTec Blister Pads?
Peter: Yes, we have an insole in a proof-of-concept study and a larger pad (10cm in diameter) for amputees in development. The larger pad will fit between the amputee stump, either above or below the knee, and the prosthetic to help reduce irritation and blistering.
How do you envision the company's growth and development in the future?
Peter: We are on the international growth trail with the pad adding new markets and distributors. The insole will enter a large feasibility trial in 2023 with a view to launch in 2024. We're yet to decide on the marketing strategy for that one. We are still working through our plans for the amputee pad.
If our readers and customers have any questions, what's the best way to get in touch?
Peter: Please contact us via out contact page at
https://pellitec.co.uk/#contact
. Customers can also subscribe to our newsletter via the same page. This is published around every two months. You can also follow PelliTec on
Facebook
and
Twitter
. Many thanks Peter, for sharing the PelliTec story. If you'd like to try them for yourself,
click here
.
SUBSCRIBE TO OUR NEWSLETTER

Sign up to the newsletter today and you'll become a VIP subscriber, with immediate access to the Vaseline report.
The Vaseline Report – right now

My best tips, tricks and insights


The latest blister news and products

Need to Buy ENGO Blister Patches? No matter where you are in the world, we'll ship your ENGO Patches to...