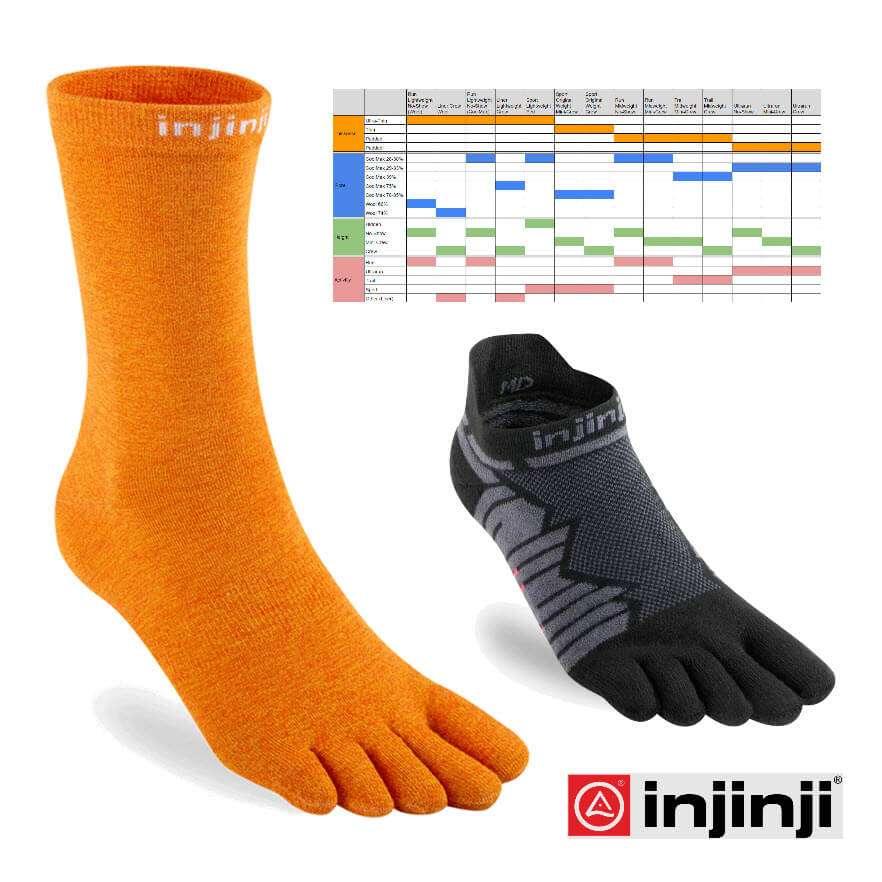 This Will Help You Choose Your Injinji Toesocks
This comparison table will help you choose your Injinji Toesocks based on sock properties related to blister prevention, not colour or price.
In preparation for stocking Injinji toesocks (we're so excited about this!), some due diligence was needed to purposefully select a range for the Blister Prevention online store. Tasked with this project, I was excited. But I knew it was going to be easier said than done.
Why Is Blister-Prevention Stocking Injinji Toesocks?
For people who suffer with
blisters between their toes
! Please understand, toesocks are unique at the interdigital space only. Normally, in a standard sock, it's a skin-skin interface between the toes. Toesocks turn it into a sock-sock interface. This is a significant change! Instantly, you can see there is going to be:
Material capable of dealing with moisture, where normally there is none
Cushioning between the toes, where normally there is none
A double-sock system in place at the interdigital space
But please understand this… Toesocks are not a cure-all for every toe blister. This is important! I speak to people frequently who expect their toesocks to prevent blisters under their toenails, on the tips of their toes, on the outside of their pinky toe, on the tops of their toes and under their big toes. I would NOT expect toesocks to do anything over and above a standard sock for these areas. With
pinch blisters
, it could go either way. But for blisters between the toes, they make a significant difference. Having said that, my go-to strategy for preventing interdigital blisters is
gel toe protectors
. In my opinion, they provide better protection for difficult blisters. However, their bulk dictates you can usually only wear them on one toe per foot. In contrast, toesocks protect EVERY interdigital space. That's why we're so excited to be adding
Injinji toesocks
to our range in Australia. We hope to do the same in the USA as soon as we can. If you're in the US and would like to purchase Injinji toesocks from us,
please let me know!
Types of Injinji Toesocks
Injinji have a BIG range of toesocks. To help you choose the right one, Injinji names them with references to the activities, the weight and the height. And yet, I still find it difficult to choose or recommend one. They've also updated their range recently, so it was high time I ran my eye over the Injinji range again. In case you're in the same boat, I thought I would share with you the table I used when choosing our own blister-specific Injinji range. I've left to the side the claims and features like "total foot utilisation" and "arch support". I'll just be taking into account the features and specifications that I believe are relevant to blister prevention. So, without further ado, let me walk you through the range we intend to stock and the reasoning behind our choices.
Height
Like all socks, Injinji toesocks can be classified according to their height. This one was easy because I know I want to offer all three heights to satisfy all my customers' activities and preferences.
There's also a "Hidden" sock which I'm excited to add as soon as Injinji replenish their stock. I'd personally like to wear these in my work shoes every day.
Weight Level
Better known as thickness, Injinji offers
4 weights in the toe area
:
Lightweight Ultra-Thin (including the Liner Base Layer)
Original Weight Thin
Midweight Padded Cushioning
Midweight with Padded Toes – This sock is identical to the Midweight sock but with a thicker terry padding at the toes.
In an effort to make this categorisation a bit easier to understand and a bit less of a mouthful, we're going to refer to the 4 different thicknesses as:
Ultra-Thin
Thin
Padded
Padded +
The small amount of research on socks and blisters suggests thick padded socks are more protective of blisters than thin. But we also know a lot of people prefer a thin sock. So, I want to provide a range of weights to cater to the vast array of customers' needs. These range from people who want:
The best possible protection in each interdigital space
Some padding and moisture-management between the toes but have wide feet and struggle at the best of times to find shoes wide enough in the toebox
Activities
Injinji has categorised their socks according to activity types. These include Run, UltraRun, Trail and Sport. Perhaps because Injinji's largest customer base are runners, there are Run socks in all weight categories, with all socks in the Padded+ category being UltraRun socks. But Trail socks are only in the Padded category. Here are the specifics:
Run socks: Ultra-Thin, Thin & Padded
UltraRun socks: Padded+
Trail socks: Padded
Sport socks: Ultra-Thin & Thin
Fibre Content
Finally, there's fibre content. Leaving the few wool socks Injinji offers to the side, just looking at their CoolMax range, there are subgroups within this range (run, trail, sport and liner). CoolMax is a well-known synthetic fibre developed to encourage moisture-wicking. Moisture-wicking is the facilitation of the movement of moisture from the skin surface, distributing it throughout the sock to enable evaporation through the shoe upper. The other fibres used are Nylon and Lycra – commonly used fibres in sock construction to ensure the sock is
durable, stretchy and holds its shape over time
. Each activity has a specific range of CoolMax percentage:
Run has 28-30% Coolmax
Ultrarun 29-33% CoolMax
Trail has 39% Coolmax
(Liner has 75% Coolmax)
Sport has 78-85% Coolmax
I had intended to focus mainly on weight (thickness) in choosing a range of Injinji's. Because I expected the Coolmax percentages would have been within a similar between the run, trail and sport ranges. But they're so different! I fully believe Injinji knows what they're doing in terms of fibre composition. It's just something I don't know a lot about. I'm surprised by the variability.
What About Wool In Injinji Toesocks?
I was going to leave wool out of our range. Just because there are so few in the Injinji range. Really, there's just the:
Liner Crew Wool: 74% wool
Run Lightweight No-show: 66% wool
However, having recently worked on a paper with American podiatrist Dr Doug Richie, and appearing on the popular Progressive Podiatry Project (P3) podcast with Dr Richie, it has given me pause. Doug is a well-known podiatrist and highly-published author, with two
ground-breaking papers
from the early 1990's on sock types and blister incidence. He has also been involved in the development of new sock brands and
therapeutic hosiery
, including Thorlo. And he has consumed all of the recent work on sock fibre performance and construction techniques for the paper
we recently worked on together
. So, it's fair to say he knows as much about sock selection and blister prevention as anyone does. In the P3 podcast, at the
31-minute mark (video below)
, you will hear Talysha ask a very obvious and presumably simple question about, what is the best sock to prevent blisters. You'll hear my answer about the 3 mechanisms by which socks can theoretically prevent blisters. These include: Moisture-management (wicking and other processes like absorption and adsorption), pressure reduction (cushioning) and shear absorption. And you'll hear Dr Richie's, some might say, controversial thoughts on the process of moisture-wicking and the properties of wool.
How Does One Choose a Sock to Prevent Blisters?
When it comes to choosing a sock for blister prevention, my thoughts are these:
DON'T choose a sock that doesn't deal with moisture. Basically, don't choose cotton. And in the absence of any research, but based on the fact that bamboo socks take forever to dry, avoid bamboo as well.
DO choose a sock that's comfortable. A lot of people like how a sock with wool in it feels. If nothing else, it provides better thermal insulation than synthetic materials. This will prove important in the cold. Other people like synthetic socks like Steigen. Some people will enjoy padding in certain sections of the sock, like that provided by Thorlo and many other brands. Others need a thin sock over and above all other features – they might have wide feet, or they might participate in endurance activities where swelling limits what they can get into their shoe.
Inevitably, your ability to choose the best toesock for you is going to involve some trial and error on your part. Your preferred sock will likely be different depending on many potential factors, not least of which would be the season, your activity, the shoes you're wearing.
Bringing Clarity
My job is to bring as much clarity to the subject as I can. But I can't tell you the single best sock for preventing blisters. It's a simple enough question, but I hope you can appreciate, there's no simple answer. If you're not getting on with a particular sock, look at its properties, like thickness and fibre content. Then try a sock with different properties to see if it performs better for you in a particular setting (heat/cold, duration of activity, degree of swelling, level of perspiration or environmental water etc). One sock may not suit every application. And I wouldn't be afraid to try a "Sport" sock for running, or a "Run" sock for hiking etc. You'll need to conduct your own experimentation. However, if you continue to get blisters, you need to look further afield than simply your sock. My advice is to research the best strategies for the specific anatomical site of your blister (this is my area of expertise;
this course is built around this topic
) and choose from the suggested preventions. Rarely do I name a sock or even a sock feature as one of the best things you can do to prevent a particular blister.
The exception is toesocks for interdigital blisters.
And that's why we're stocking them in our online store.
So, Which Injinji Toesocks Are We Going to Stock?
The table below represents the properties of the socks we've chosen to stock in our online store. You may find this helpful in choosing your Injinji toesocks. For example, you may have extra wide feet and you want a toesock that doesn't add excessive bulk in the toebox of your shoe. In this case, you'd go straight for the Ultra-Thin socks. Or, perhaps you want to maximise the moisture-wicking capability of your sock. In this case, you'd look for the socks with the highest CoolMax fibre content. Or perhaps if you like wearing crew length socks, you can see at a glance which socks you can choose from. You can then cross-reference socks that have extra padding at the toes (Padded+) to land on the best possible Injinji toesock for your purposes.
p>
Here's a written explanation of my choices.
Thickest
Without even having to think about it, we're going to stock the thickest toesocks. That is the UltraRun series in all 3 lengths: no-show, mini-crew and crew.
Thinnest
At the other end of the scale, we'll have the thinnest toesocks in as many heights as are available. This includes:
No-show (Run Lightweight No-show)
There is no Mini-crew
Liner Lightweight Crew (this is their Liner crew with a high 75% CoolMax)
And we'll stock their one and only "Hidden" PED sock which is named in their Sport range, but with 29% CoolMax, is more like a Run sock in terms of fibre composition (out of stock at the moment)
Highest CoolMax Content
That means the Sport socks with 78-85% Coolmax. These two socks are in the Thin Original Weight sock range and are available in mini-crew and crew (no "no-show" available).
Midrange CoolMax Content
This would mean the two Trail socks with 39% CoolMax. Both of these are in the Padded category, in mini-crew and crew (no "no-show" available).
Lowest CoolMax Content
This would be the Run socks with 28-30% Coolmax. We'll have the no-show and mini-crew from the Padded range (no "crew" available).
Wool
Finally, we'll stock the two wool toesocks Injinji offers. That is the:
Run Lightweight No-show (66% Merino)
Liner Crew Wool (74% Merino wool)
How To Choose Your Injinji Toesocks
That's up to you. Some people are looking for a fashion statement and choose purely on colour/appearance. Others choose based on price. However, if you'd like to make a more considered and informed choice, be it based around composition (fibre content) or construction (thickness), the table above will help you to do exactly that.
Conclusion
Compared to normal socks, toesocks are unique at the interdigital space only. Normally, in a standard sock, there is a skin-skin interface between the toes. Toesocks turn this into a sock-sock interface. This is a significant change! Instantly, you can see there is going to be moisture-management and cushioning that isn't usually there, plus a double-sock system. Our Injinji Toesock range is regrettably available only in Australia. Keep an eye out over the coming weeks as we add these socks to our store. In the meantime, if you have any questions, please don't hesitate to
get in touch
. We hope to provide these in the USA as soon as possible. But we need your help.
Please let us know
if you're in the US and you'd like to purchase your socks through the Blister Prevention online store.
SUBSCRIBE TO OUR NEWSLETTER

Sign up to the newsletter today and you'll become a VIP subscriber, with immediate access to the Vaseline report.
The Vaseline Report – right now

My best tips, tricks and insights


The latest blister news and products

Need to Buy ENGO Blister Patches? No matter where you are in the world, we'll ship your ENGO Patches to...

Fixation tapes, like Fixomull Stretch, are one of many tapes used in blister prevention. They also have the important task...