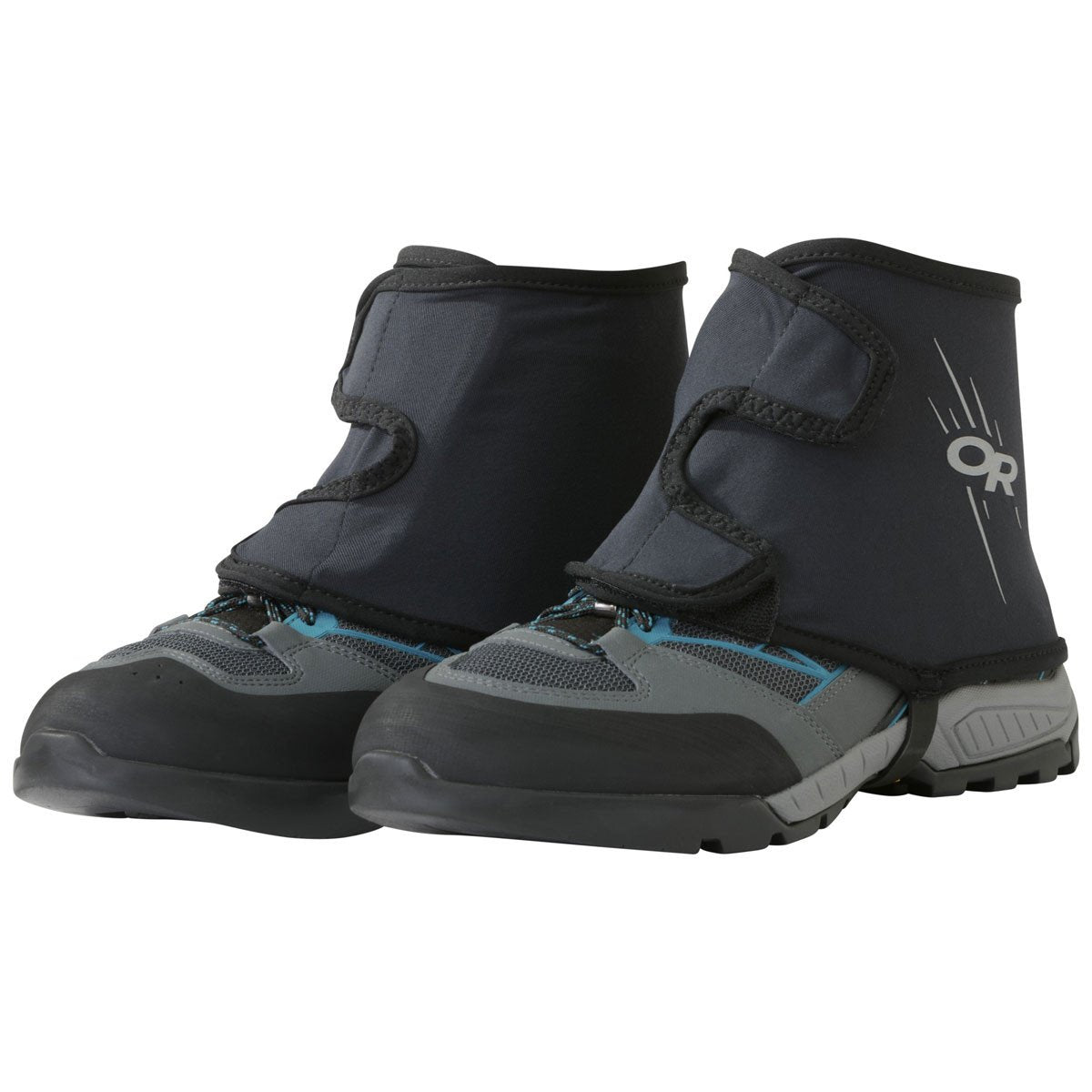 How To Use Hiking and Running Gaiters
Not sure which gaiters to choose or how to use them. This article looks at styles and brands of hiking and running gaiters and how they work.
Gaiters are used to keep stuff out of your shoes. Actually, depending on your activity and the environment, they can also protect your legs from scratches and bites, stop your socks from gathering grass seeds and the like, and keep water out of your shoes. They're all about protection. Gaiters come in lots of shapes and sizes and a lot has been written about hiking gaiters and trail running gaiters. This is the first of two articles looking at choosing and using gaiters. The second article will focus on gaiters used in ultramarathon, particularly the full-shoe gaiter.
My Experience With Hiking and Running Gaiters
Well, I don't have any! So this 2-part article series was a fact-finding exercise. I provide foot care at ultramarathons - I don't run them. I enjoy the continuous 6-day ultramarathons where runners run a smallish loop (Adelaide is about 1.5km), bitumen/paved not trail, and their tent accommodation is track side. Gaiters don't feature heavily in these events. The race I saw most gaiters in was Big Red Run in Birdsville. This was a desert race. The main aim of gaiters was to keep the desert sand out. From memory, DirtyGirl Gaiters and RaidLight Desert Gaiters featured most, with a few MyRaceKit Desert Gaiters. There was a particularly fetching home-made pair that caught my eye too, made from an old pair of trousers and some gaffa tape!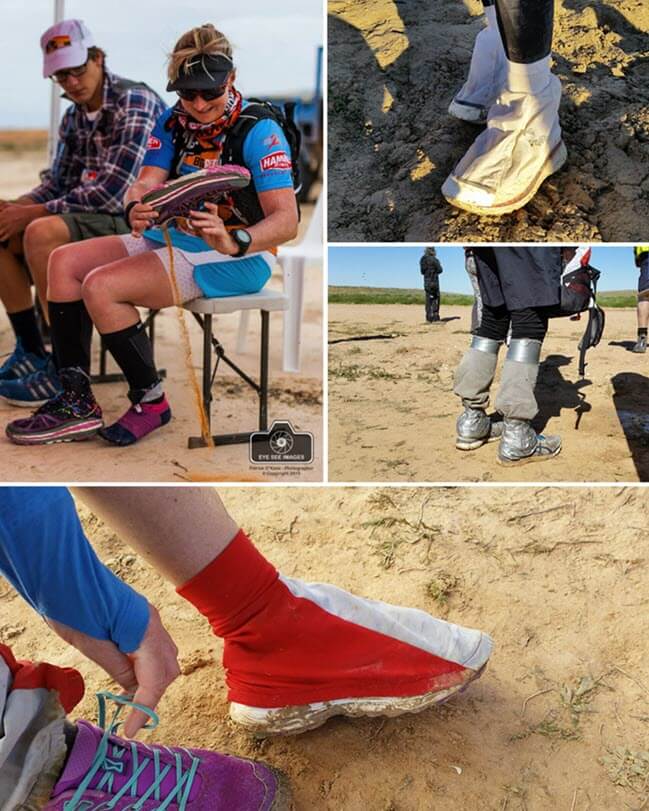 Gaiters seen at Big Red Run (clockwise: Dirty Girl Gaiters, MyRaceKit Desert Gaiters, home-made gaiters, RaidLight Desert Gaiters).
I provide education around blister management for hikers, runners and anyone really – anyone about to embark on something significant. Events that see them on their feet much more than usual. Anything like this is a recipe for blisters. Add wet grass, rain or river crossings, hours spent in the same shoes and socks, and you've got a recipe for maceration. One such event is the Southern Lakes Ultra (Queenstown, NZ) for which I presented on blister management. There are many creek crossings, lots of running through dew-laden grasses, areas of snow-covered ground, and who knows if it will rain. Runners wanted to know how to keep their feet dry. I've investigated the topic of maceration thoroughly a few years ago and wrote three comprehensive articles that are worth a read. Now it's time I thoroughly investigated the ability of gaiters to keep water out of the shoe in an ultramarthon situation - the topic of the second article in this series. But first, let's just look more broadly at hiking and running gaiters.
Purpose
The purpose of gaiters, by way of their length, fabric and fit, is to physically close the gap between your leg and your shoe. They protect you from:
Stones, sand, grit and twigs from getting in your shoes
Water, snow and mud entering your shoes
Grass seeds from sticking in your socks
Scratches and abrasions to your legs from sticks, scrub and rocks
Bites from ticks, bugs and snakes
While providing their protective function, gaiters may be chosen for one or more of the following qualities:
Breathability - To encourage ventilation and the evaporation of perspiration
Colour – Light colours minimise heat absorption from the ground and sun, dark colours do the opposite
Insulation – From snow and icy environments
Flexibility – To enable good fit and comfort against the skin
Adjustability – To enable optimal fit for different feet and footwear
Lengths
Gaiters are typically categorised by length. While the image below shows gaiters worn more by hikers, REI provides a nice example of ankle, mid-calf and below-knee length gaiters.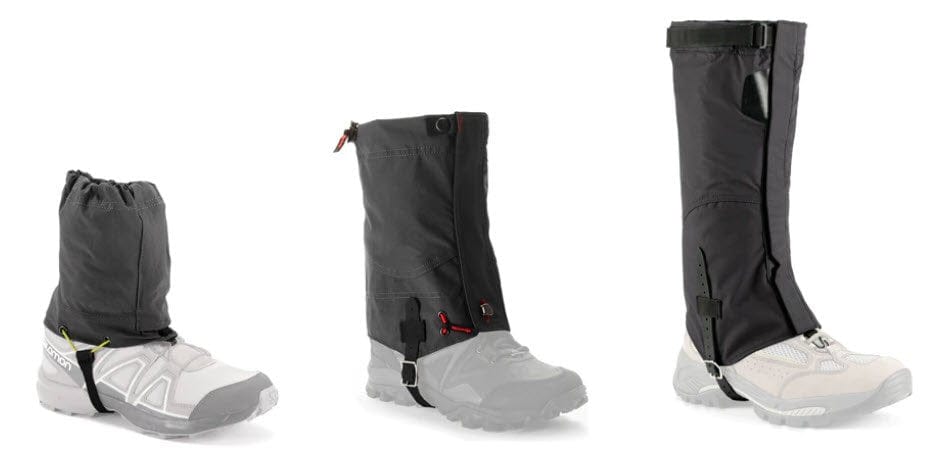 Ankle, mid-calf and below-knee gaiter lengths Ankle, mid-calf and below-knee gaiter lengths (from REI: https://www.rei.com/learn/expert-advice/gaiters.html)
How To Wear Hiking Gaiters
Activities
Hiking and running gaiters can also be categorised based on activity, according to Featherstone Outdoor:
Mountaineering: Mountaineering gaiters are geared towards hiking in snow, where it's very wet and where there are likely creek or river crossings required. Waterproofing is exceptionally important and are typically below-knee in length. They're worn with boots or skis which are generally a bit more waterproof around the top of the foot and toes compared to running shoes, which usually have a mesh construction.
Hiking/Backpacking: Hiking gaiters can be ankle, calf or knee height and vary in regard to waterproofing. Hikers will choose their gaiter depending on the environment they'll be traversing. Protection from abrasion in thick bushland and preventing an easy entry for water will dominate the height of the gaiter chosen.
Trail Running: Trail running gaiters are lightweight, ankle high and usually not waterproof. While they will afford a minor obstacle for the easy entry of water from entering the top of the shoe, their main focus is to prevent the entry of sand and stones.
Most Common Trail Running Gaiters
An example of a popular trail running gaiter is the Dirty Girl Gaiter. These gaiters attach to the ankle via an elasticated cuff, and to the shoe with two fastening points:
A hook at the front that hooks onto your laces
And a piece of Velcro that you must affix yourself (provided) at the back of the shoe behind the heel
In contrast, other gaiters rely on the following to attach to the shoe:
A Velcro strap or zip
An adjustable strap or drawstring that goes under the shoe
To get a feel for the Dirty Girl Gaiters, take a look at the demo video below.
AR Mini Gaiters attach similarly. Altra sell their own comparable gaiter and customise their shoes for easy attachment. Take a look at this recent video (2021), and then the comparison video below that comparing Dirty Girl and Altra Gaiters.
Just like Altra, Topo have their own gaiter and place special attachments on their shoes to take the gaiter hooks behind the heel. Take a look at this demo video below.
What Materials Are Hiking and Running Gaiters Made From?
Let's have a look at the materials used in making gaiters.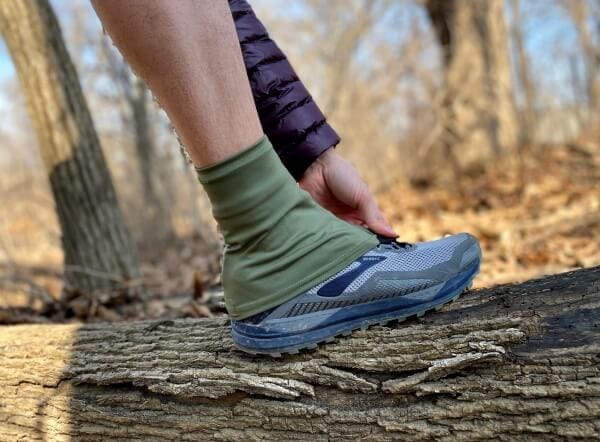 Canvas (cotton)
In days gone by, gaiters were commonly made from canvas. According to Snowys, canvas is tough, providing excellent protection from tearing in rugged environments and is a more breathable that synthetic materials (like GoreTex). This makes canvas a good option for general summer hiking and hot weather. However, the problem with canvas, according to Advnture, any waterproofing function comes through its cotton fibers absorbing moisture and swelling. For this reason, canvas often gets heavy when it's wet. Sea to Summit Quagmires are a popular canvas hiking gaiter.
Synthetics
These days, most gaiters are made from a variety of synthetic materials such as polyester, Nylon or polyurethane-coated nylon.
Cordura (Nylon):
The cheapest and probably the most common fabric used in hiking and running gaiters is Cordura, which is made out of nylon. According to Advnture, Cordura is hard-wearing and can be waterproofed, the waterproof coating will wear off over time and it's not breathable, so it can get hot and sweaty in warm conditions. Cordura fabrics are usually made of nylon, but can be a blend of nylon with cotton or other natural fibers. Cordura fabrics are known for their durability and resistance to abrasion and tearing.
Ripstop (usually Nylon):
Ripstop is a woven fabric, usually of nylon, that uses a special reinforcing technique to make it resistant to tearing and ripping. It may or may not be waterproofed. myRaceKit Desert Gaiters are made from ripstop.
Spandex and Lycra:
Spandex and Lycra are examples of the polyester material called elastane. Dirty Girl Gaiters are made from Spandex and AR Gaiters are made from Lycra.
Polyurethane coated nylon:
Snowys tells us this material is lightweight and durable so it's great for the protection against abrasions when you're traveling through thick scrub or over rocky areas. The STS Grasshopper Gaiters are a good example. Specifically, they are made with 600D Ripstop Polyester and purported to be waterproof.
Gore-Tex:
Gore-Tex is a fabric that is designed to be waterproof, so it's great for really wet environments including rivers, snow and ice. Most mountaineering or alpine skiing gaiters tend to be made from Gore-Tex or other breathable fabrics like eVent. These materials not only retard external moisture, they also combat moisture building up inside the gaiter. But Advnture report they are not particularly resistant to tearing. They suggest Cordura or canvas if you're planning to thrash through thick scrub.
But Stuff Can Still Get In Your Shoe!
Have you noticed that, due to the design of these hiking and running gaiters, none of them cover the entire top of the shoe? There's nothing stopping sand or water from getting into the shoe through:
The perforations in mesh uppers: Simply running over wet grass in running shoes is enough to get sopping wet socks in a few minutes. That's to mention nothing of rain and puddle splashes. At a guess, 99.9% of running shoes have this mesh upper. It's there to encourage the evaporation of perspiration to keep your feet drier and cooler during the rigours of your running.
The eyelets: These are the holes that your laces go through. Ongoing rain and puddle splashes will see water eventually enter all of these entry points and soak your sock. That's to mention nothing of an emersion situation like a creek crossing where water will quickly seep in.
The tongue area: While the Dirty Girl gaiters (and similar) kind of cover some of the eyelets and tongue of your shoe, they don't cover the whole area and they certainly won't help you during a creek crossing.
Enter The Full-Shoe Ultramarathon Running Gaiter
That's why these full shoe gaiters below exist. Most (possibly all) are made for the desert. Their aim is to keep sand from entering the shoe through the mesh upper, eylets and tongue, as well as the top of the shoe of course. In the next article, we'll be looking closely at when full-shoe gaiters should be chosen, how they are worn and how waterproof and breathable they are. Stay tuned...
SUBSCRIBE TO OUR NEWSLETTER

Sign up to the newsletter today and you'll become a VIP subscriber, with immediate access to the Vaseline report.
The Vaseline Report – right now

My best tips, tricks and insights


The latest blister news and products

When it comes to flexible tapes used on the feet for preventing blisters, there are two standout options. The first...