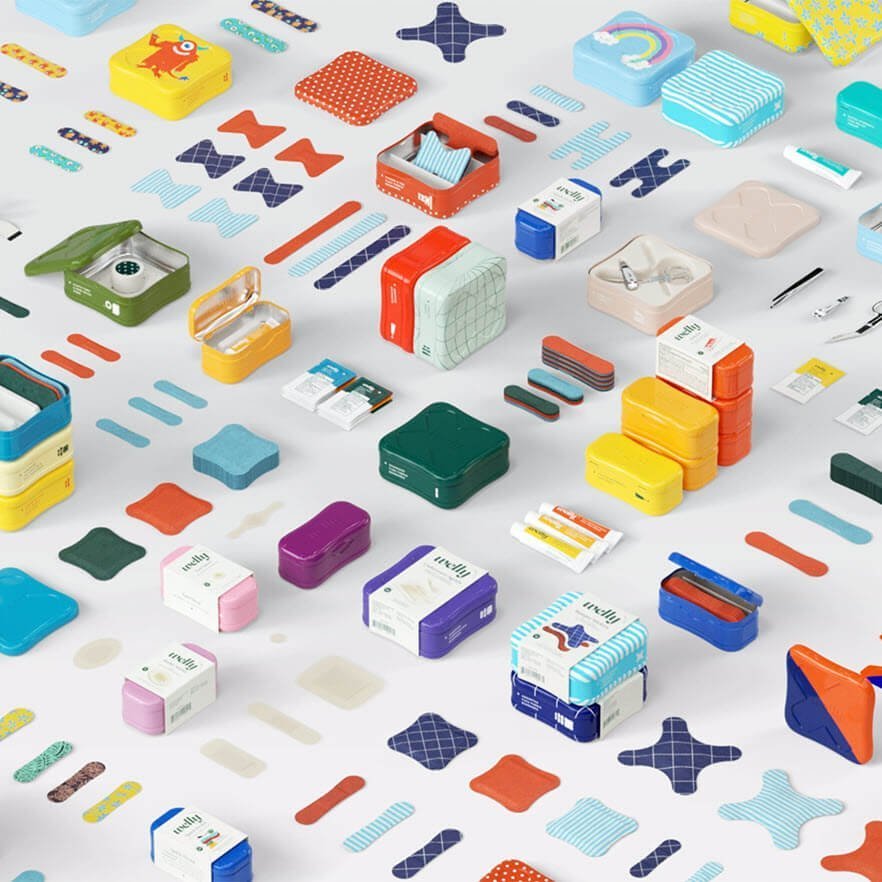 Blister Bandaids, Island Dressings & Adhesive Bandages
Band-Aid is the most well-known brand of adhesive bandages. But don't ignore these fine blister bandaids and island dressing brands.
Health professionals call them island dressings. You probably know them as bandaids. They're the most versatile blister dressing there is. I refer to them in just about every article I write. You can literally use them on ANY blister.
Whether you call them bandaids, bandages or island dressings, these blister dressings are a officially in the "adhesive bandages" class of products (here's the wiki page). They are characterised by a piece of gauze in the middle of a bigger piece of tape. The gauze "island" is absorbent and non-stick. Its job is to absorb fluids from the blister and protect the delicate healing skin. And the surrounding "sea" of adhesive tape locks out dirt and germs, keeping the blister as clean as possible.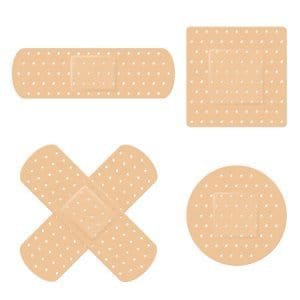 p>
Which Blisters Are Suited To Island Dressings?
You can put an island dressing on ANY blister: intact, torn or deroofed. Watch this super-helpful video about the aims of blister treatment and take note of how to choose the right blister dressings for each type of blister.
With this in mind, if you're assembling a first aid kit or blister kit and you're extremely conscious about minimising the bulk and weight, you can do without hydrocolloids. But pack plenty of island dressings! They'll give you the blister protection you need. Let's look at 6 island dressings I've used on foot blisters, personally and professionally, and that you can use too, including:
2 well-known island dressing brands
2 fun island dressing brands
2 island dressings I use every day as a podiatrist
A note on waterproof blister bandaids
Two Well-Known Blister Bandaid Brands
1. Band-Aid® Brand Adhesive Bandages

Bandaid brand adhesive bandages The most well-known brand of island dressing or "adhesive bandage" is Band-Aid. So much so that bandaid has become a proprietary eponym, or genericized trademark, just like Kleenex, Velcro and ChapStick.
A generic trademark, also known as a genericized trademark or proprietary eponym, is a trademark or brand name that, because of its popularity or significance, has become the generic term for, or synonymous with, a general class of products or services, usually against the intentions of the trademark's owner. https://en.wikipedia.org/wiki/Generic_trademark
Take a look at their logo: Band-Aid Brand Adhesive Bandages. They're trying to hammer home the point that Band-Aid is a brand! A trip to the chemist or supermarket will quickly highlight, Band-Aid brand bandaids come in lots of shapes and sizes. You'll also notice a variety of materials used, delivering varying degrees of flexibility, water-resistance and adhesiveness of the bandaid. See, even I can't help but refer to island dressings as bandaids. But one must be careful when giving people blister treatment advice because the Band-Aid brand also sells hydrocolloid blister dressings, known as Advanced Healing or HydroSeal. As mentioned earlier, these gel bandages are definitely not island dressings and they should only be used on one type of blister for advanced wound healing, and that's deroofed blisters.
Tech specs:
Band-Aids come in all shapes, sizes and materials. The plastic ones tend to be less flexible and therefore won't conform to the bumpy contours of toes and bunions as well as necessary. The fabric ones have better flexibility but can seem a bit rough on the adjacent toe. Adhesion ranges from terrible to excellent, depending on the bandaid chosen. I like their "Tough Strips" - the adhesion is excellent even when wet, and even when on a joint that flexes a lot.
Standard Band-Aid Island Dressings (7.2cm x 1.9cm), island dimensions 2.3cm x 1.2cm
Large Band-Aid Island Dressings (8.2cm x 2.5cm), island dimensions 2.9cm x 1.5cm
2. Elastoplast
Elastoplast is another very popular brand of adhesive blister bandages, often referred to as "plasters" or "sticking plasters". They offer a comparable range of products to Band-Aid. They also have a product aimed at consumers who experience skin sensitivity reactions to standard adhesive bandages. So it's surprising product reviews on their website are uncomplimentary. Elastoplast Sensitive skin bandages look perfect as blister bandaids. elastoplast sensitive blister bandages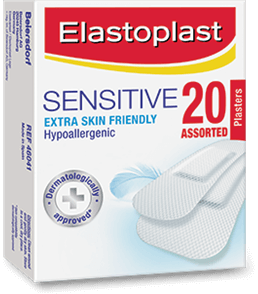 Tech specs:
Flexibility is excellent. Adhesion is very good in dry and wet conditions when on flat surfaces. Adhesion is good when the applied joint is flexed, but can loosen around edges applied joint is flexed, especially when wet.
Elastoplast Sensitive Dressings standard size (7.2cm x 1.9cm), island dimensions 2.5cm x 1.2cm
Elastoplast Sensitive Dressings large size (7.2cm x 3.0cm), island dimensions 3.0cm x 1.8cm
Two Fun Island Dressing Brands
1. Patch
Still on the skin sensitivity issue, Patch's bamboo bandages are both environmentally and skin-friendly. I recommend this product for those with allergies to adhesives in standard bandaids and can vouch for the absence of skin reactions. And their range of coconut oil, aloe-vera and activated charcoal is quirky and fun. Check out the FAQ page for more details on their ingredients. Their adhesiveness is not as strong as other dressings I've used. In the sweaty in-shoe environment, they may loosen sooner than you hoped.
Tech specs:
Flexibility is moderate. Adhesion is good in dry conditions, poor when wet, especially when applied finger/toe is flexed.
Elastoplast Sensitive Dressings standard size (8.5cm x 2.0cm), island dimensions 2.5cm x 1.3cm
2. Welly
I love Welly's "bravery badges". They're fun, super cute and quite possibly the best practical gift ever (yes, I'm that Aunty!). They come in all shapes and sizes and their adhesiveness is quite good. Take a look for yourself. They're an American product, not officially available in Australia (nor does Welly ship to Australia), but I managed to find a refill pack on Amazon.com.au.
p>
Tech specs:
Flexibility is great. Adhesion is great in dry conditions on flat surface. When wet, and especially on flexing joints, the dressing can loosen and gape.
Welly small standard dressing size (5.7cm x 1.5cm), island dimensions 2cm x 1.0cm
Welly standard dressing size (7.6cm x 2.0cm), island dimensions 2.5cm x 1.3cm
Welly large standard size (7.6cm x 2.5cm), island dimensions 2.8cm x 1.5cm
Two Island Dressings I Used Every Day
1. Livingstone Finger and Joint Dressings
I use Livingstone's "finger" and "joint" dressings a lot at work, at home, and in track-side blister care. The shapes are just perfect as toe bandaids, and to go around big toes, knuckles, bunions, edge blisters and even the back of the heel! The adhesive has recently been improved so I no longer find the need to secure them with Fixomull, which just fantastic! I include 18 of them in our BlisterPod Ultra Blister Kit because they are simply indispensible.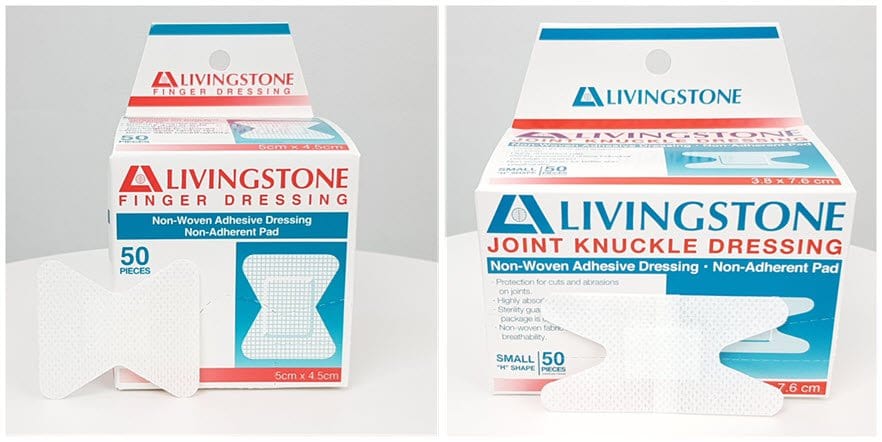 I use Livingstone Finger and Joint Island Dressings every day! p>
p>
Tech Specs
Flexibility is excellent. Adhesion is excellent in dry and wet conditions, including when applied finger/toe is flexed. p>
Livingstone Finger Dressings (5cm x 4.5cm), island dimensions 2cm x 1.5cm
Livingstone Joint Dressings (7.6cm x 3.8cm), island dimensions 2.3cm x 1.7cm
p>
There's is no need for these island dressings to be a podiatrist's secret weapon in treating blisters. Everyone should have access to them. That's why we now stock them in the Blister Shop. I've looked high and low for a comparable product in shape, size, adhesiveness and overall longevity in the challenging in-shoe environment... and there isn't one. p>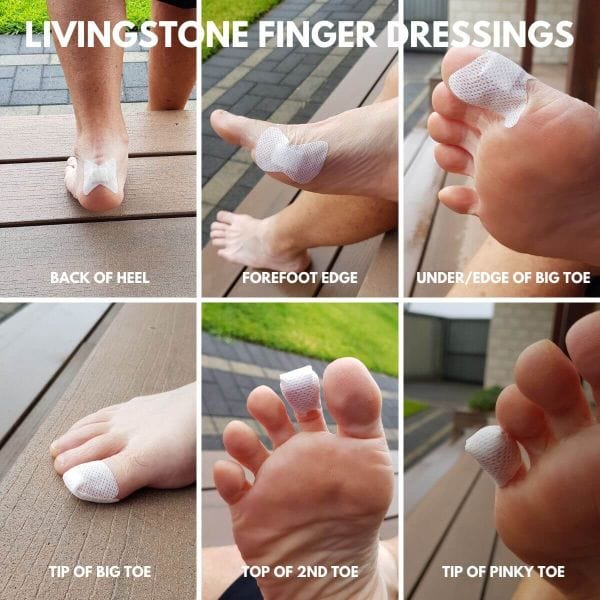 Livingstone Finger Dressings on feet p>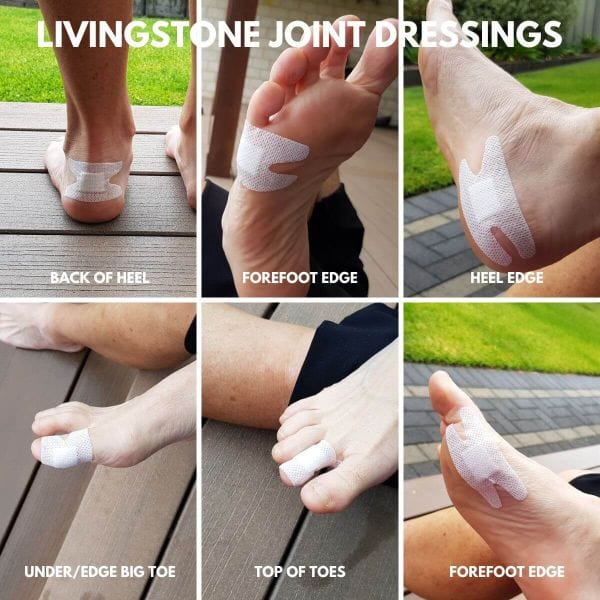 Livingstone Joint Dressings on feet p>
p>
2. Walkers Nu-Por Island
Walkers Nu-Por is a relatively unknown brand of island dressing. Almost identical to Cutiplast Steril and Primapore, it comes in a 7.5cm x 5cm dressing. I use them in treating blisters on the bottom of feet and back of heels. The adhesiveness is excellent and I've never experienced sensitivity reactions. p>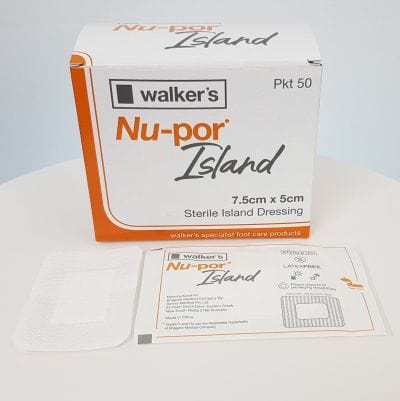 p>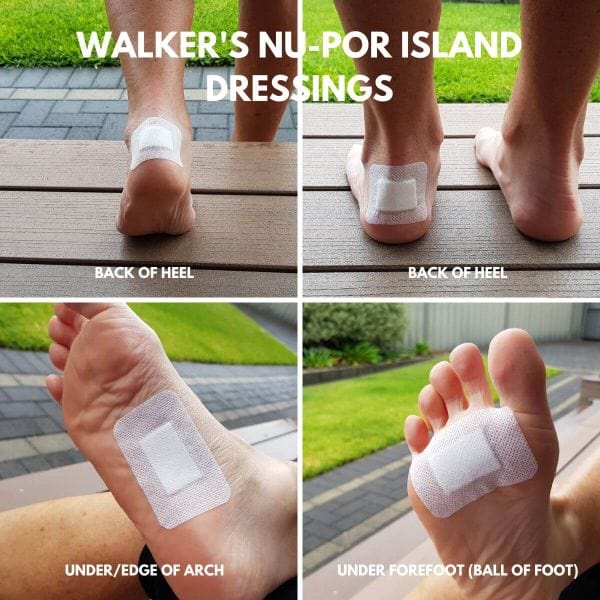 Walker's Nu-Por Island Dressings on feet p>
p>
Tech specs
Flexibility is excellent. Adhesion is excellent in dry and wet conditions, including when flexed.
Nu-por Island Dressings (7.5cm x 5cm), island dimensions 3.7cm x 2.3cm
p>
Waterproof Blister Bandages
Island dressings are either "dry" or "waterproof". So far we've talked about DRY island dressings. WATERPROOF island dressings are the same concept: There's an absorbent non-stick gauze island surrounded by a "sea" of adhesive tape. But in this case, water can't get in. That obviously has it's advantages for blister protection. If you have a torn blister but you want to go to the pool, choose a waterproof island dressing. Below are some examples from the Band-Aid brand, Elastoplast and Nexcare. However, don't let the term "waterproof" give you a false sense of security. There are three traps to avoid with waterproof blister bandages:
If your blister is already infected, a waterproof dressing will accelerate that infection due to the occlusion. So keep your blister clean as soon as you're aware of it, use an antiseptic, and monitor your blister frequently to ensure it's not getting worse.
Especially if your blister is very weepy, don't leave your waterproof blister bandaid on too long. The last thing your blister needs is a soggy dressing on it for long periods causing maceration. Change it frequently - maybe a few times per day if it's very weepy.
Watch the edges! The clear tapes can lift easier than you might think. Remember, it's only water-tight as long as the seal is intact.
p>
Three Island Dressing How-To Videos
Some dressing come in rolls. They aren't sterile, which I believe any blister dressing needs to be. Also, they aren't strictly island dressings, because when cut to size, they are open at two sides. That means they don't lock out dirt and germs. There's an easy fix though and I outline that fix in this video (below). p>
p>
How To Make Your Own Island Dressings p>
p>
p>
Toe Bandaids - How To Apply An Island Dressing To The Tip Of Your Toe
Blister bandages, bandaids and even just tape is tricky to effectively apply to the tip of the toe. Watch this video to see how I make standard bandaids work for toe tips. p>
p>
p>
Bow-Tie / Butterfly Toe Bandaids For Toes
Last but not least, I love, love, love these toe bandaids for blisters at the tip of the toe. Do take a look at the video below. And make sure you get some similarly-shaped blister bandages to put in your first aid kit! p>
p>
Wrapping up
Who knew the "adhesive bandage" space was so complex and full of options! Personally, I can't get my head around calling island dressings "bandages". To me, bandages are the things you splint your broken arm with, or wrap around your sore leg. They'll always be "island dressings" to me, or "bandaids". Other commonly-used terms include plasters, patches and strips. Which brands of blister bandaids, adhesive bandages, island dressings, sticking plasters, patches or strips do you favour for your blister protection? p>
SUBSCRIBE TO OUR NEWSLETTER

Sign up to the newsletter today and you'll become a VIP subscriber, with immediate access to the Vaseline report.
The Vaseline Report – right now

My best tips, tricks and insights


The latest blister news and products

When it comes to flexible tapes used on the feet for preventing blisters, there are two standout options. The first...