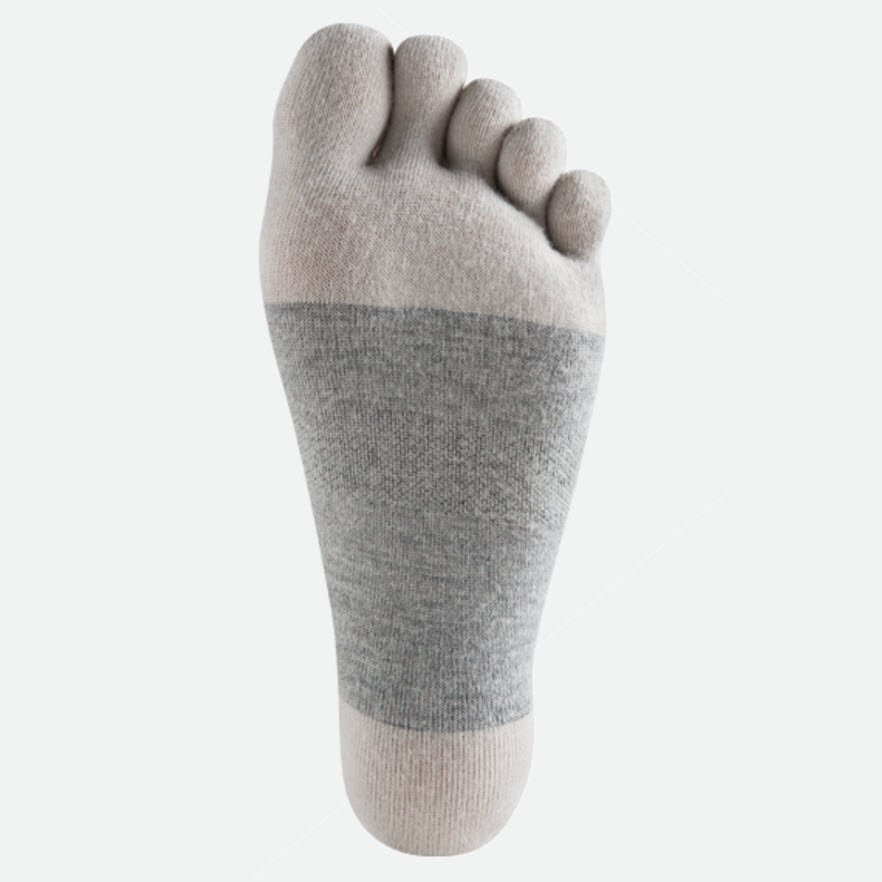 How To Choose Toesocks For Blister Prevention
How do you choose the right pair of Injinji toesocks for blister prevention? Learn about fibre content, different thicknesses and activity-specific features.
Recently, I spoke with Paul Reuss, director of Injinji Performance Products in Queensland. While I've written at length about moisture-wicking socks, double socks and "blister prevention socks" before, I really wanted to provide some specific information to my readers about Injinji toesocks for blister prevention. In particular, I was keen to find out about fibre content, thickness and activity-specific features. Things that would help me choose the right pair for me.
Toesocks provide some sock bulk between the toes where usually there is none. The cushioning effect alone can help prevent blisters between toes and pinch blisters.
Brands Of Toesocks For Preventing Blisters
Injinji toesocks are hugely popular among runners and hikers. While there are other brands of toesocks out there, personally, I've found the toe and heel contouring to be far inferior to the Injinji brand. That alone is enough to bypass them and head straight for Injinji. I asked Paul about the specific inferiorities of other brands.
We have seen many imitators come and go over the years. The main problems we see with the cheap knock off socks are the fibre content, lack of arch support, no structured heel pocket, seams in the toes, poor toe contouring, sizing and the overall fit is not good. Injinji Socks are designed to hug the foot like a second skin and this is something the others just can't replicate.
I couldn't agree more about the fit. I've seen toesocks that gape at the toes and arch and gather at the front of the ankle. Just look at how well the Injinji toesock conforms all around the foot, especially the toes.
Fibre content
Obviously, Injinji toesocks look sensational. But let's talk about fibre content. I realise that in your socks you use combinations of CoolMax (the most commonly used fibre known for its moisture-wicking ability), NuWool (Merino wool being known for its thermal insulation and favourable moisture-wicking functions) and Lycra (required for the elasticity component of socks). For ease of categorisation, can you group your range of socks into subsets as per the percentages of these fibers?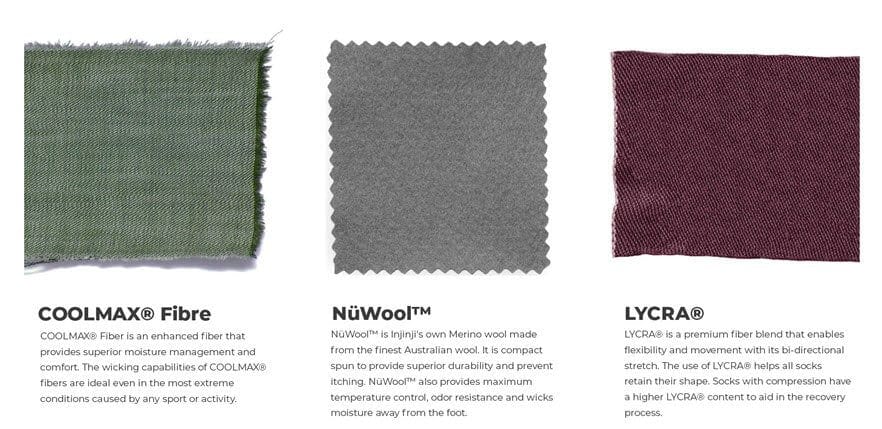 p>
The fibres used in injinji toesocks that fight against blisters
We don't categorise our socks on fibre content percentages as such. However, we do group them into the two groups based on the main fabric content, being either Coolmax (Synthetic) or NuWool (Natural). p>• CoolMax (synthetic) socks include: Run Series; Trail Series; Liner+Runner; Compression
• NuWool (natural) socks include: Outdoor Series; Liner+Hiker (Liner is Coolmax)
Thickness Of Toesocks For Blister Prevention
What about thickness? Research back in the 1990's showed thickness alone has a blister prevention effect. But practically, that has to be offset by the room in the toebox of the shoe. I'm curious, how thick are your liner socks? How thick is your thickest sock? Can Injinji toesocks be grouped by thickness? Or nap? Or construction technique? p>We group our socks into various "Weights": Light weight; Original weight; Mid weight; and now Ultra Run.
a) Light weight is what we call a two-ply construction so it is thin and breathable.
b) Original weight is a three-ply construction all the way through so it has a small amount of padding.
c) Mid Weight is padded though the heel and forefoot with a terry construction and then the toe area is three-ply like the original weight socks.
d) Ultra Run is our most padded sock that has the Terry construction through the entire sock.
Our liner socks are our thinnest sock and are designed to be a first interface between the foot and outer sock.
We now also have our double sock packages. The Liner + Hiker Socks (mens / womens) which has a NuWool Crew outer sock; and the Liner + Runner Socks (mens / womens) which has a CoolMax outer sock. In both instances, the outer sock features a foot shaped toe box and we make the toe area more flexible so as to still allow the toes to perform unrestricted.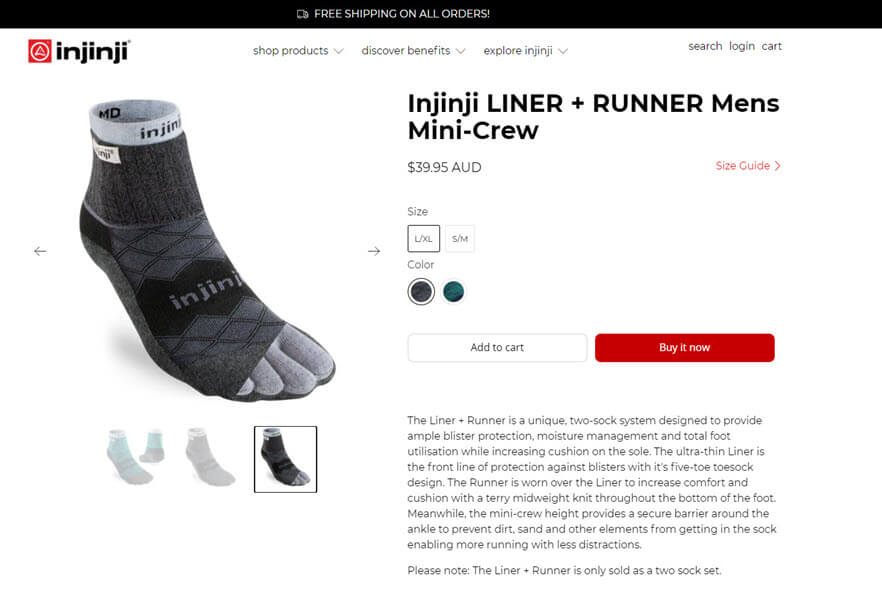 Injinji Liner + Runner Socks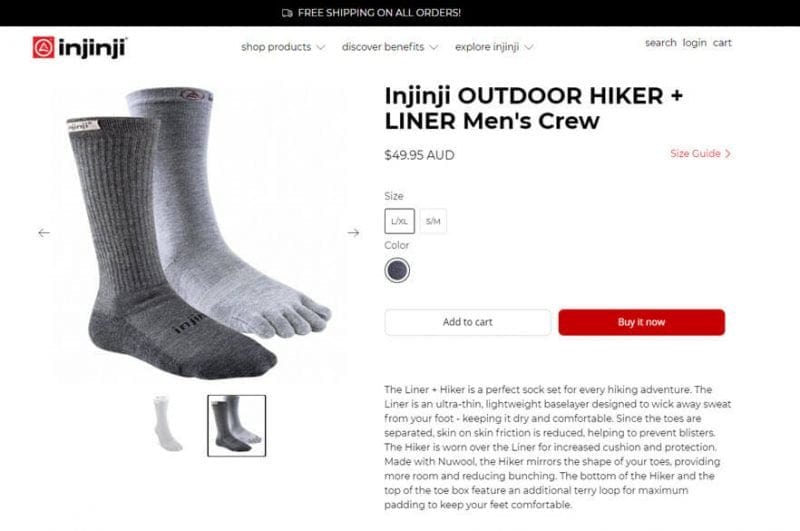 Injinji Liner + Hiker Socks
Activity
I can see that you list socks per sport/activity. Are there specific characteristics that facilitate this grouping? If so, what are they?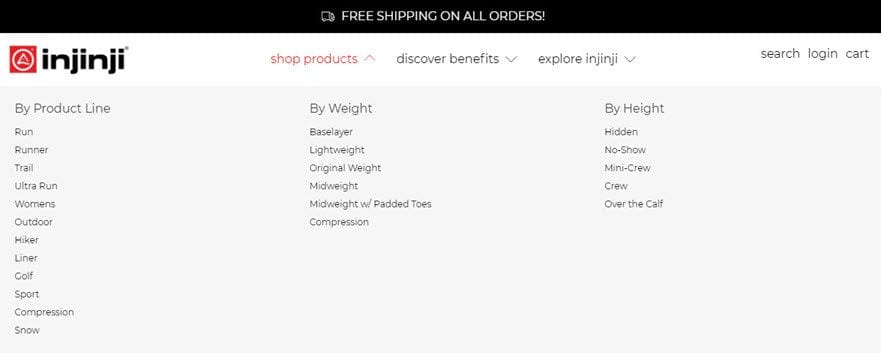 We try and break down our sock styles for consumer depending on the activity and we do add some features for that activity. Generally, they are Run, Trail and Outdoor.
The Trail socks differ from the Run socks in that they are all Mid Weight socks and the Mini Crew socks have a Double Cuff at the top which holds the ankle firmly so no dirt and or debris gets in. The Outdoor socks are all Nu-Wool.
That's great to know! Thank you so much Paul. If you have any thoughts about toesocks and blister prevention, or any questions for Paul specifically, post them here - we'd love to hear from you. Many thanks to Paul for his time and expertise. Please, if you're in Australia, check out the new Injinji website to see all the current styles at www.injinji.com.au
If you need more toe padding and blister protection than toesocks can provide, check out our Gel To Caps.
SUBSCRIBE TO OUR NEWSLETTER

Sign up to the newsletter today and you'll become a VIP subscriber, with immediate access to the Vaseline report.
The Vaseline Report – right now

My best tips, tricks and insights


The latest blister news and products

When it comes to flexible tapes used on the feet for preventing blisters, there are two standout options. The first...