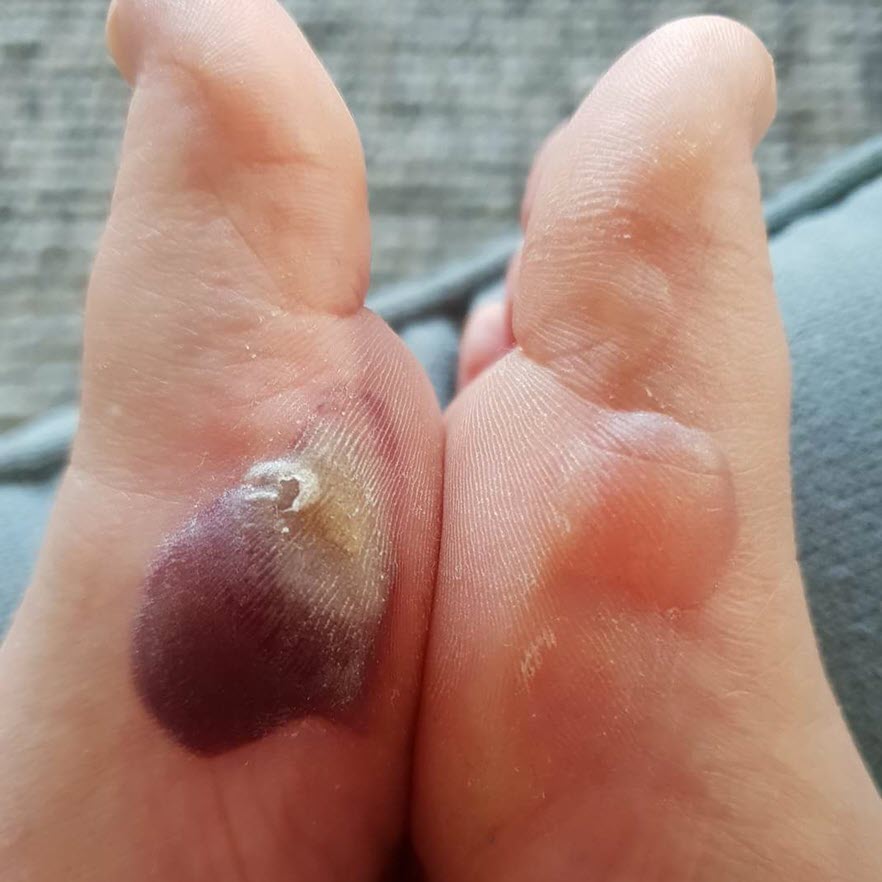 Blister Fluid Colours: What's Inside Your Blister?
Blister fluid is normally colourless. But it can be all shades of yellow, pink, red and purple. Find out what's inside your blister.
The colour and consistency of blister fluid can range from thin and colourless, to a thick stringy yellow, to all shades of pink, red, dark purple and also black. Each colour tells you something specific about your blister. So, in this article, you'll discover what's inside your blister to make it looks the way it looks. And what it all means.
1) COLOURLESS BLISTER FLUID - Plasma
Normal "healthy" blisters have a thin colourless liquid in them. This normal blister fluid is similar to plasma but has a lower protein level. Plasma is basically blood without the red blood cells. In fact, it's mostly water, which is why blisters normally have no colour.
2) YELLOW / GREEN - Pus
Pus is yellow (or sometimes green) and thicker than the normal fluid found in blisters. It can even be a bit stringy in its consistency. It consists of dead white blood cells and bacteria with tissue debris and serum. The presence of pus means your blister is infected.
Normal blister fluid is thin and colourless, whereas the liquid contents of an infected blister is thicker and yellow (pus).
Learn more about the other signs of infected blisters here
3) PINK / RED / PURPLE - Blood
When there's a bit more pin-point pressure involved in the blister injury, blood vessels slightly deeper to the normal blister can be damaged. As a result, blood enter the blister and mixes with the normal fluid. The more blood that enters, the more red it will be. After that, as the days go by and the blood dries, the colour gets darker and turns to a dark purple or even black colour.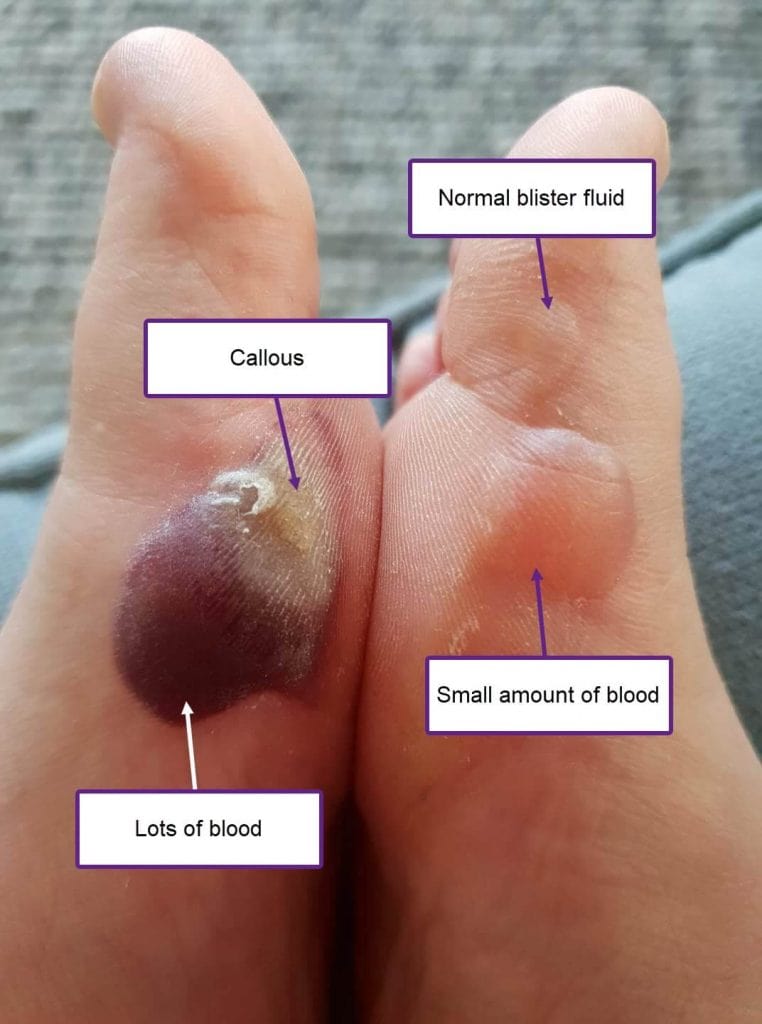 There are three blisters here. One is a typical blister (top right). The other two are blood blisters with varying amounts of blood in them, which effects the colour. There's also a callous involved with one of these blisters that might throw you off, so just thought I'd point that out.
4) BLACK - Dry Blood
Black blisters indicate that the blood in your blister has completely dried. It won't be a fluid any more - it will have a fine and brittle crystalline structure. It will take around 6 weeks for this to work its way to the surface to finally shed away.
Learn how to deal with blood blisters here
Wrapping up the colours of blisters
Yellow or green infected blisters are the worst blisters to have. That's because infections can be dangerous if left enchecked.
Pink, red or purple blisters are usually the most painful. By the time they become black they're usually not so painful.
Other than that, colourless blisters are the best blisters to have - if there is a good blister to have?
References
Richie, D. 2010. How To Manage Friction Blisters. Podiatry Today. Volume 23, Issue 6, p42-49.
Need To Drain Your Blister?
You'll find the tools and instructions you need to do this safely, and painlessly, in our Blister Lance Pack. Click the "view product" button below to learn more about what's in this blister kit and how to use it.
SUBSCRIBE TO OUR NEWSLETTER

Sign up to the newsletter today and you'll become a VIP subscriber, with immediate access to the Vaseline report.
The Vaseline Report – right now

My best tips, tricks and insights


The latest blister news and products

When it comes to flexible tapes used on the feet for preventing blisters, there are two standout options. The first...