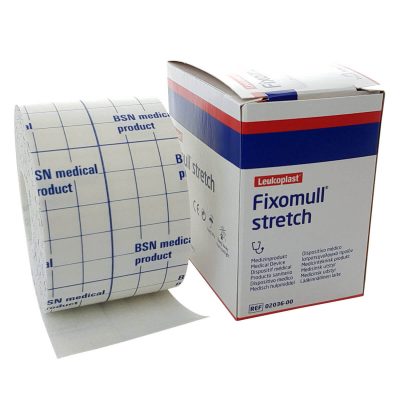 Fixation Tapes: Comparing Fixomull Stretch To 11 Other Brands
Fixomull Stretch is considered the gold standard of fixation tapes. So I tested eleven others for flexibility, adhesion and water resistance.
Fixation tapes, like Fixomull Stretch, are one of many tapes used in blister prevention. They also have the important task of securing paddings and dressings so they'll stay in place, in spite of the challenging in-shoe environment. And fixation tape is used as an adhesive under-wrap before the application of a rigid sports tape. It is prized for its flexibility, water-resistance, and thinness. And for being hypoallergenic.
As a podiatrist, I use fixation tape every single day. I've used some good ones. I've wasted my time with terrible ones, too. Fixomull Stretch is widely considered to be the gold standard for this type of product. But there are A LOT of other brands out there. And new fixation tapes are coming out all the time – I bought two just the other week.
As you can imagine, I have amassed quite a collection of fixation tapes over the years. So, I thought I'd look at the properties of Fixomull Stretch. And compare and contrast 11 others to see how they stack up.
These results might give you a starting point if you've never used fixation tape before. Or, if you're already using one and not sure if you want to stick with it, or try another brand, this will help you make an informed choice, based on the properties I observed during testing.
Keep in mind, these tests are not overly scientific or precise. But you'll get a rough idea of just what's out there and what to look for.
Below is a list of all the brands of fixation tape I tested for this comparison. They are all the 5cm (2 inch) width rolls as this is the most convenient size for toes and feet.
Fixation Tapes Tested
Fixomull Stretch
Hypafix
Hypafix Gentle Touch
Hapla Chirofix
Walkers Fixation Tape
Strapit Fix It
Straplast Fixing Tape
InMotion CTEK
Physipod PhysiFix
Meson Adhesive Wound Dressing Tape
CS Airpore Soft Fix Tape
Motex Softpore
The properties I looked at are:
Flexibility

Side to side – pull on both sides of a 5cm wide x 2cm long piece (original length 5cm)
End to end – pull on both ends of a 5cm wide x 2cm long piece (original length 2cm)
Transverse – pull on diagonal corners of a 5cm wide x 5cm long piece (original length 7cm)

Adhesiveness

– Apply a 5cm wide x 2cm long piece of tape to the proximal interphalangeal joint of my finger (either index or middle finger) and gauge adhesive strength to:

Repeated joint flexion – is there gaping of the tape due to lack of adhesion
Then add water – is adhesion adversely effected with repetitive joint flexion

Residue

– Do any of the tapes leave adhesive residue on the skin upon removal
Ease of removal

– Does the tape come off in one piece
Video of Fixation Tape Testing Procedure
Table of Results

Fixation tapes properties – table of results
Summary of results
In terms of flexibility:
Side to side:

5 tapes had excellent flexibility, 1 had fair flexibility, and 6 tore.
Front to back:

5 tapes had excellent flexibility, 3 had fair flexibility, 3 didn't stretch and one tore.
Transverse:

5 tapes had excellent flexibility, one had excellent flexibility but lost its adhesive at maximum stretch, one had fair flexibility and 5 tore.
In terms of adhesive strength over a flexing joint:
Dry:

5 exhibited excellent adhesion and 7 showed signs of loosening (gaping) at one or both edges.
Wet:

6 tapes exhibited excellent adhesion when wet, 3 tapes loosened a little, and 3 tapes loosened a lot.
Other observations:
Ease of removal:

One tape failed to come off easily in one piece
Residue:

Two tapes left adhesive residue upon removal (PhysiFix only a little, CS Airpore a lot)
Fixomull Stretch and Walker's Fixation Tape Come Out On Top
Overall, two tapes performed optimally on all counts, Fixomull Stretch and Walker's Fixation Tape. If you haven't heard of the Walker's brand, it's a practitioner-only brand of medical supplier, Briggate Medical Company.
Walker's Fixation Tape 5cm x 10m roll (2 in x 32 ft)
It's interesting that Hypafix's performance didn't emulate that of Fixomull Stretch as I was under the impression they were different names for the same product, one being a hospital product, the other for the consumer market. I later repeated the tests on Hypafix with the same results.
The properties of fixation tape are important to consider because they can affect the tape's ability to perform its intended function. For example, a tape that is not flexible enough may not conform well to the bony contours of toes, bunions and lumpy heels. A tape that is not water-resistant will likely loosen, bunch up or fall off during activities that involve sweating or contact with water. And a tape that leaves residue on the skin after removal can be both uncomfortable and unsightly, and increase the likelihood of blisters.
Based on my experience, and backed-up by these tests, it's either Fixomull Stretch or Walker's Fixation Tape for me, every time. Between the two, with no discernible difference in quality, and costing approximately 30% less than Fixomull, Walkers makes the most sense. If you love your Fixomull but would like to make the switch, let me know in the comments and we may add it to our inventory as a cost-effective alternative to Fixomull Stretch.
If you're curious about a particular tape and I haven't included it here, let me know and I'll do the exact same tests and report back on the outcome.
Conclusion
It is clear some fixation tapes are manufactured up to a quality; others, down to a price. When it comes to foot-related applications, I find any compromises in quality are pointless. The tape needs to be thin, flexible and have a strong adhesion, including in damp and waterlogged conditions. The hot, humid, high friction, high pressure, high shear environment within the shoe when exercising, is challenging at the best of times. Quality counts and in my opinion, it is worth paying for. My picks are Fixomull Stretch or Walker's Fixation Tape, every time.
I hope this comparison helps you make more informed decisions about which fixation tape suits your blister and foot care needs.
SUBSCRIBE TO OUR NEWSLETTER

Sign up to the newsletter today and you'll become a VIP subscriber, with immediate access to the Vaseline report.
The Vaseline Report – right now

My best tips, tricks and insights


The latest blister news and products

When it comes to flexible tapes used on the feet for preventing blisters, there are two standout options. The first...