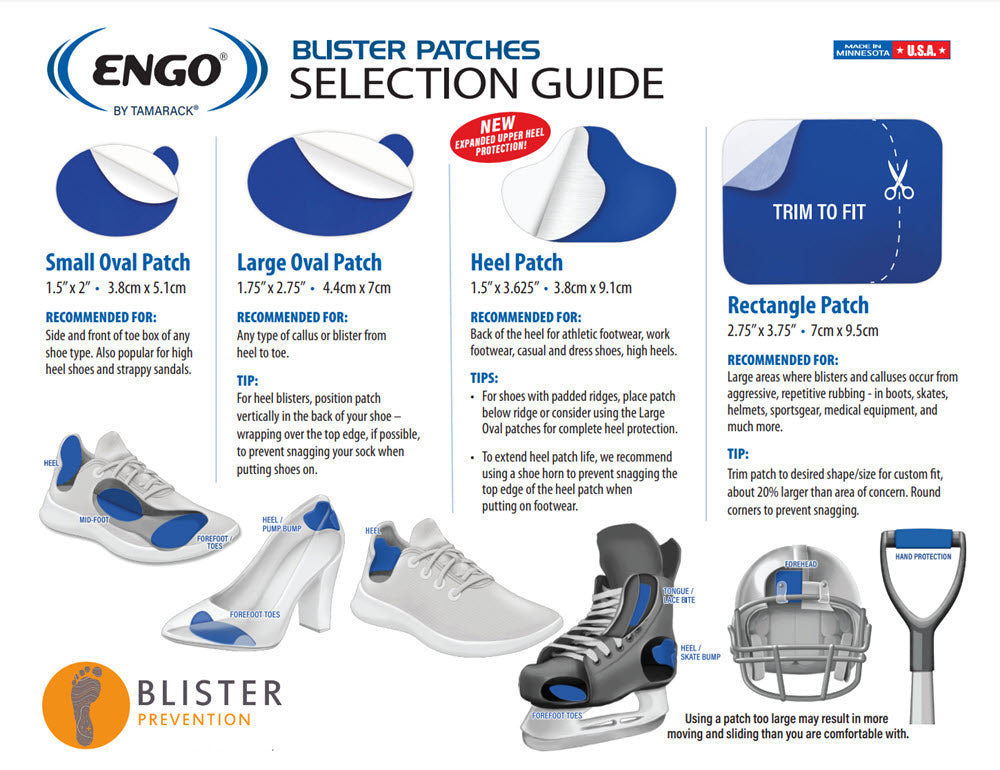 Tailored To Perfection: Cut-Your-Own-ENGO [Customization Guide]
Shearban is a cut-your-own ENGO in sheet form that allows you to create custom patches tailored to your specific needs.
It's no secret ENGO Blister Patches are a game-changer in preventing and treating blisters. They're ability to strategically manage friction is unrivalled. ENGO patches come in four convenient shapes and sizes to satisfy 99% of your blister needs. But what do you do if the rectangle patch isn't wide enough for your size 12s? What if you want a larger oval patch for your work boots or ski-boots? And which patch do you choose for the awkward and concave surfaces of splints and prostheses? What you need is ENGO in sheet form, so you can cut your own ENGO patch!
ENGO Blister Patches: The Gold Standard In Blister Prevention
When it comes to using ENGO Blister Patches effectively, choosing the right size and shape is crucial. To make things easier for you, we have the ENGO Blister Patch Size Guide infographic, which you can see below.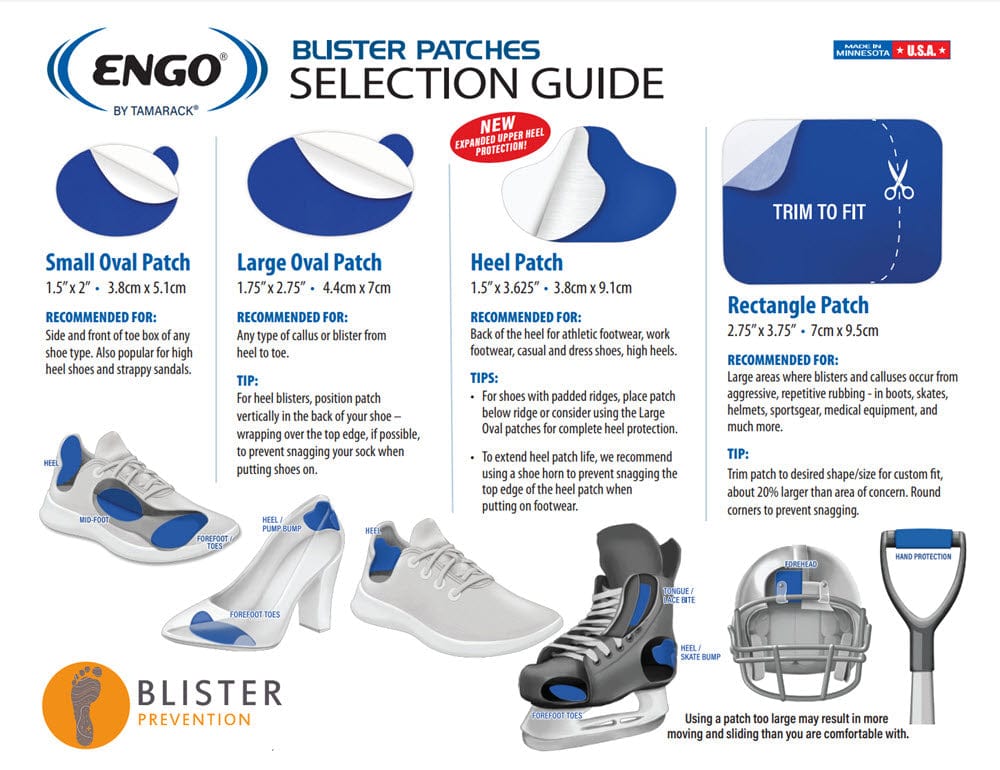 If you're new to ENGO Plister Patches, heres a quick rundown of the 4 patches.
Small Oval Patch
1.5 x 2 (3.8cm x 5.1cm)
Great for the toe box region of any shoe to protect the top of one or two toes. These are popular in high heel shoes and even on the straps of sandals.
Large Oval Patch
1.75 x 2.75 (4.4cm x 7cm)
This is the versatile all-rounder patch. The oval shape makes them easiest to apply without creases. You can use this patch anywhere from heel to toe.
Heel Patch
1.5 x 3.625 (3.8cm x 9.1cm)
Perfect for the back of the heel, this is ENGO's recently redesigned heel patch. Use it as pictured when the heel collar is high in the middle; and around the other way when the heel collar is straight. Importantly, for any patch as the back of the heel, you have to stop your sock from snagging the top of the patch as you slide your foot into your shoe. Holding the top edge of the patch as you guide your sock over the top edge is recommended, either with your fingers or a shoehorn.
Rectangle Patch
2.75 x 3.75 (7cm x 9.5cm)
Use these on large flat surfaces like your insole or anywhere in your boots, skates and ski-boots where you need large area protection. Like any ENGO patch, you can cut these down to any size or shape. Rounding the corners to make the rectangle more like an oval is a good idea for contoured areas like the back of the heel.
Crucially, ensure your patch is a little bigger than your blister susceptible area. An extra 12 inch (~1.5cm) on all sides is recommended.
Introducing A Cut-Your-Own ENGO Option
We're excited to introduce a new product that takes ENGO customization to the next level: Shearban.
Shearban is ENGO in sheet form and has previously been available only to health care practitioners.
The dimensions of each sheet is 13 inches x 8.6 inches (33cm x 22cm), so each sheet is slightly larger than US letter or A4 page size. This "cut your own" sheet of ENGO allows you to tailor your blister prevention patches for your own unique needs.
The team at Tamarack Habilitation Technologies Inc, who make both ENGO Blister Patches and Shearban, are well-versed in the versatility of their Shearban sheet. This is especially so for people who wear prostheses. The concave curvatures can make it tricky to apply a standard patch without it creasing. In these situations, there are a few patch shapes you can use. These include:
Bar patch - bar patches are long, narrow strips that are great for targeting specific areas, like the edge of your shoe, orthotic, splint or prosthetic.
Leaf patch - leaf patches are uniquely shaped to fit inside concave curves.
Teardrop patch - teardrop patches combine the benefits of oval and circular patches, making them suitable for flat and moderately curved surfaces. Both rounded and elongated areas.
And many more - Download the template (below).
Download The Cut-Your-Own Patch Template PDF
To get started with Shearban, simply download our cut-your-own patch template PDF here. This PDF includes templates for various patch shapes, making it easy to create patches that fit your shoes, insoles, orthotics, or equipment perfectly.
How To Use The Template & Shearban For Custom Blister Prevention
Using Shearban to create custom patches is a straightforward process. Here's a step-by-step guide:
Download the template: start by downloading the shearban cut your own patch template pdf from our website.
Choose your template: select the template shape and size that fits your needs, ensuring you have an extra 12 inch (~1.5cm) on all sides. Cut it out from the template page.
Trace and cut: lay your shearban sheet down and place your template on top. Trace around your template carefully. Using a pair of scissors, cut along the traced lines.
Apply your Shearban patch: Remove the backing from your custom patch and apply it directly to the inside of your shoe, or on your insole, orthotic, splint, prosthetic or equipment, ensuring it covers the high-friction area, with a little extra on all sides.
Press firmly: press down firmly on every edge the patch and hold for 30 continuous seconds to ensure it adheres securely. Immediately don your shoe/equipment and wear it for the next 30 minutes to warm the patch adhesive, ensuring optimal adhesion.
Repeat as needed: if you have multiple areas that require strategic friction reduction, simply repeat the process with additional templates and shearban sheets.
The Future Of Blister Prevention Is Strategic Friction Management
Whether its a precut ENGO Blister Patch, or your own customized Shearban patch, strategic (localized) friction management revolutionizes the way you can approach blister prevention, and skin protection more broadly. With the ability to create custom patches tailored to your unique footwear and equipment, you'll experience unmatched comfort and protection for your skin.
To purchase either ENGO or Shearban to cut your own patch, visit this page. Say goodbye to generic blister solutions and hello to long-term, personalized strategic friction management, and long-lasting comfort.
Wrapping Up
ENGO Blister Patches have been a trusted solution for blister prevention for many years, and now, with the introduction of Shearban, customization has reached a whole new level. Shearban is a cut-your-own sheet of ENGO that allows you to create custom patches tailored to your specific needs. Whether you're dealing with ski boots, prosthetics, or unique shoe shapes and sizes, you can now cut your own ENGO patch with Shearban sheets.
The ENGO Blister Patch size guide, plus the downloadable Shearban cut-your-own patch template PDF, empower you to take total control of your blister prevention regimen. No matter what type of footwear or equipment you use, or what activity you take part in, you can now stay blister-free and focused on your adventures.
Don't wait any longer to upgrade your blister prevention strategy. Experience the future of blister prevention with cut-your-own ENGO patch Shearban sheets.
SUBSCRIBE TO OUR NEWSLETTER

Sign up to the newsletter today and you'll become a VIP subscriber, with immediate access to the Vaseline report.
The Vaseline Report – right now

My best tips, tricks and insights


The latest blister news and products

When it comes to flexible tapes used on the feet for preventing blisters, there are two standout options. The first...