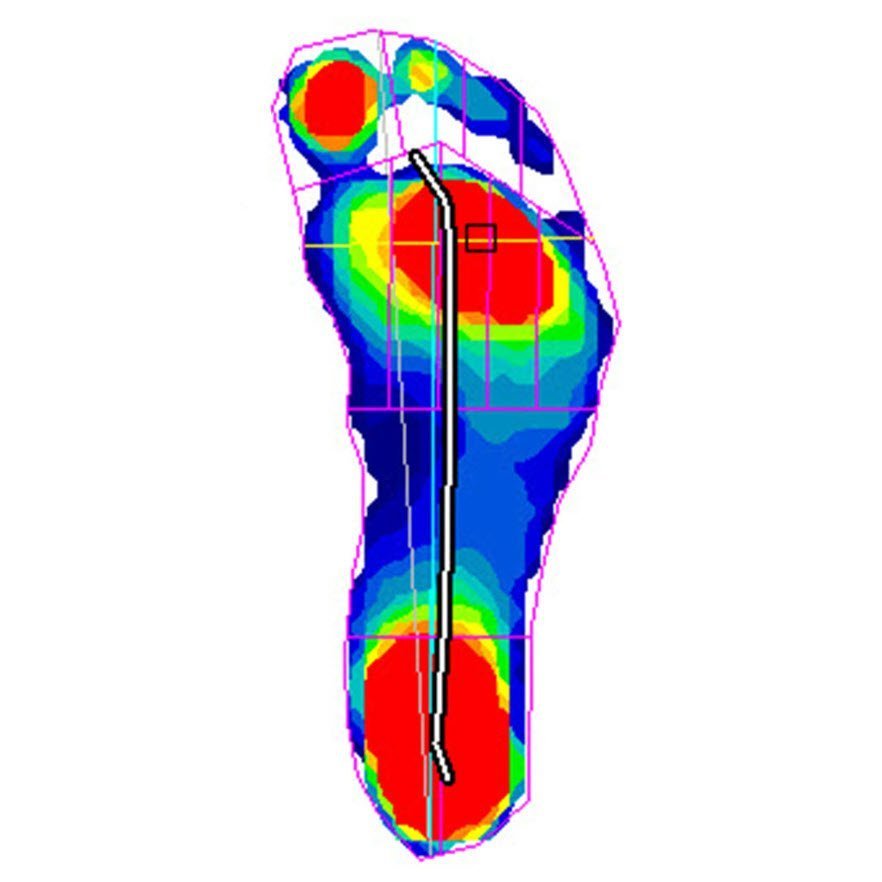 10 Ways To Take Pressure Off A Foot Blister
Here are 10 ways to remove or reduce pressure off your foot blister. Which one you choose depends on where it is, what you're doing and the gear you have.
There are many ways to take pressure off your foot blister. Choosing the best method depends on: where it is on your foot; what your upcoming activity is likely to be; and the gear you have available to you. Choose one or more of these pressure-relieving strategies to get some relief.
10 ways to get some pressure relief
1. Donut pad
A donut pad to lift the shoe off your heel blister; or to reduce weightbearing pressure from a blister under the ball of your foot. Here's the orthopaedic (podiatry) felt and Fixomull Stretch I've used above for this donut pad. And the tape you'll need to cover it.
2. Cushioned insole
A cushioned insole for a blister under the ball of your foot (cushioning reduces the force per unit area by spreading the load over a larger area). Read more here.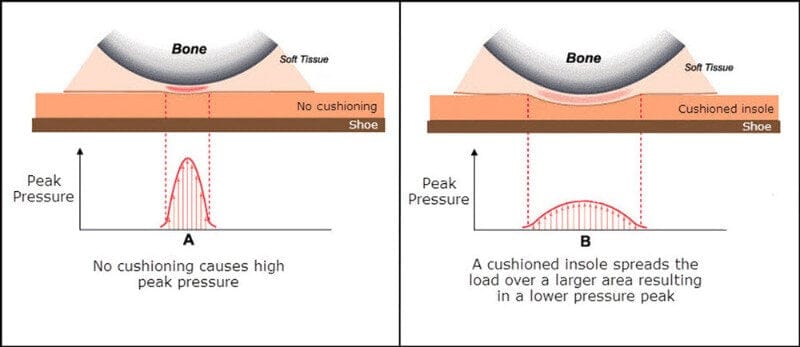 Cushioning reduces peak pressure - Image credit www.oandp.org
3. Gel toe protectors
A gel toe protector to cushion a blister prone area between your toes, on top of your toe or on the side of your toe. Here's the Gel Toe Sleeves from the video. You can learn more about gel toe protectors here.
4. Toesocks
A pair of toesocks will cushion a blister between your toes.
Toesocks have a double layer between the toes - that acts as cushioning
5. Orthotics
Orthotics to reduce pressure from the underside of your big toe. Read more here.
A functional hallux limitus puts more pressure under the big toe. Orthotics can change this.
6. Shoes that don't press on your blister
Wearing shoes that don't press on the blister (at all or as much) - like scuffs for a heel blister; or a deeper toebox for a blister on top of your toe, or a wider toebox for a blister on the outside of your little toe, or cutting out the toebox of your shoe for a blister on the top of one of your toes!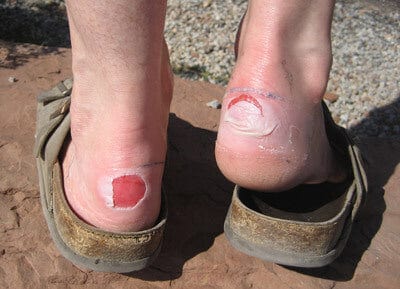 Wear shoes around camp that won't put any pressure on your blister (image credit: www.pcds.org.uk)
7. Lacing
Lacing your shoes tighter to stop your toes (one of which has a blister under its nail) from slamming into the end of your shoe when you're going downhill.
8. An altered gait
Walking or running differently to reduce weightbearing pressure on a blister. For example, avoiding a heel strike if you have a blister under your heel. Or if your event allows it (and you have them handy), using poles can help you adjust your gait to reduce the propulsive force required from your foot, reducing pressure on the ball of the foot and toes.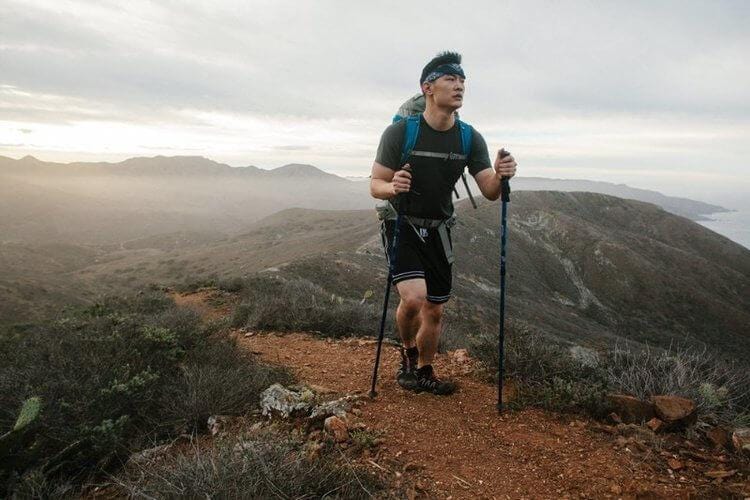 Walking with poles can help relieve pressure from a blister (image credit: survival-mastery.com)
9. Put your feet up to reduce swelling
If your feet are swollen and this is putting extra pressure on a blister somewhere on your forefoot (toes / ball of foot), put your feet up when you can, to allow fluid to drain.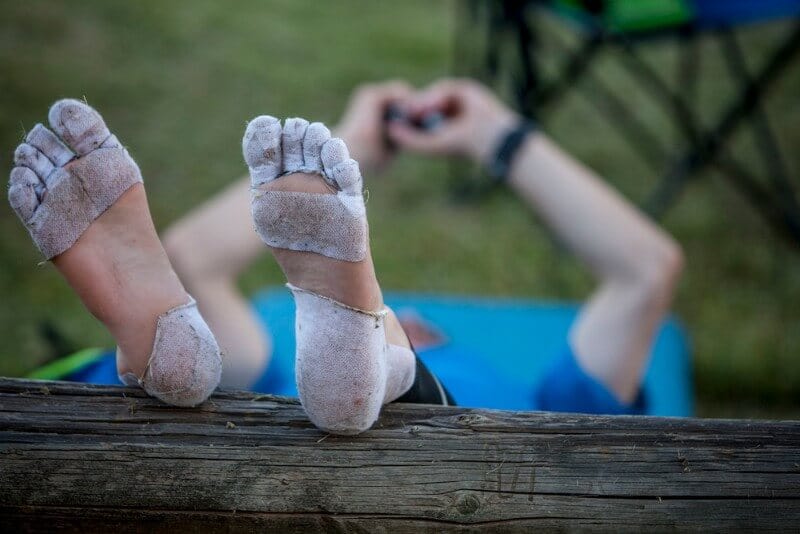 Put your feet up to reduce swelling
10. Non-weightbearing
Non-weightbearing, including pulling out of the race if it's painful enough or if there is significant risk to your health (eg: deroofed, blood blister, infected). While I'd love to put up a picture of a DNF-worthy blister, I get complaints about such images. If you want to see a few blisters I'd consider too difficult or risky to manage mid-race, check out Cape Wrath Ultras blister article.
Before you jump in and take pressure off your foot blister...
When choosing a pressure-reduction strategy for your blister, be aware of its potential downsides. For example:
A donut pad on your heel might push your foot too far forward in your shoe, jamming your toes into the toebox.
Toesocks might squash your toes because there's not enough width in the toebox.
Silicone gel toe sleeves might macerate your skin.
Changing your gait to avoid a heel strike, when you normally run with a heel strike, is very likely to make something else hurt and possibly cause injury.
Weigh up the pros and cons!
PS: Lubricants, powders, ENGO patches and double-socks do nothing for pressure. They deal purely with friction . Don't forget, friction management is just as important in treating blisters, if not more so!
SUBSCRIBE TO OUR NEWSLETTER

Sign up to the newsletter today and you'll become a VIP subscriber, with immediate access to the Vaseline report.
The Vaseline Report – right now

My best tips, tricks and insights


The latest blister news and products

When it comes to flexible tapes used on the feet for preventing blisters, there are two standout options. The first...