FREE shipping in United States for orders over $50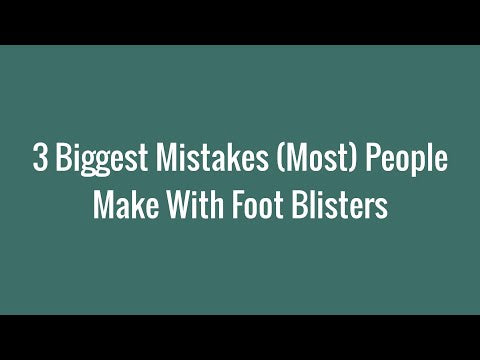 Fix My Foot Blisters Fast [Special Offer - Lifetime Access]
---
Heal your blisters today and stop them from coming back tomorrow (forever)
Even if you're blister-prone, even if you have problem feet, even if everything you've ever tried before hasn't worked. We have a SOLUTION for you.
Introducing... Fix My Foot Blisters FAST
An Online FAST Action Plan to help you heal your blisters on the go!
Fix My Foot Blisters FAST is the only resource of its kind that walks you step-by-step through treating and preventing blisters according to their anatomical location. This is the critical component that's missing from ANY advice you've EVER heard about blisters. (Think infinitely more sophisticated than a banaid or moleskin or someone telling you to get new shoes).
It's designed for you to take FAST action on your blisters.
It's a bit like an app. You don't need to become an expert on every blister - so I'm not going to make you read tonnes of unnecessary stuff. But trust me, you'll feel like an expert!
Watch the video to learn about ...
...the three most common mistakes active people make - and how to avoid the pitfalls that could cost you pain, disappointing performance and tonnes of wasted money on blister products that were never going to work
Do you suffer from painful blisters on a regular basis?
Do blisters prevent you from enjoying your favourite sports and activities?
Got a painful blister right now and not sure what to do with it?
Are you planning a long-distance multi-day endurance event where there's a high risk of you getting blisters on your feet?
Luckily for you, due to having blister-prone feet myself, plus 25 years as a podiatrist, and providing blister care at many ultramarathon events since 2014, I've figured out all the secrets, tips and tools to be able to help you with this.
Find what you need in just a few taps
Here's how it works
First... we'll see what you know already and bust some myths.
Then... I'll show you how to do basic blister treatment properly so you can avoid the common mistakes.
The next step is... to choose your blister location so I can show you how to fix it in one click.
Then... you'll learn how to get the most out of each blister product, piece of gear and technique.
And finally... I'll share some bonus tips.
💡 There's no need to do the modules one-by-one. Simply tap in and out ANYWHERE you like - it's very simple to navigate your way around!
Special Offer
Buy this product right now and you'll also receive a copy of the 5 Stages of Blister Management download, for FREE!